GCAL is frequently sought as expert consultants, appraisers, mediators, and forensic expert witnesses, by legal, insurance, government and banking institutions. GCAL's founder has been called upon to testify as an expert witness in major court cases throughout the U.S. Canada, Singpore, the Bahamas, Israel & China.
Gem Certification & Assurance Lab, Inc.
(GCAL) offers a unique suite of certification, identification, valuation, and forensic services for diamonds, gemstones, and jewelry. GCAL's expertise is regularly sought by international banks, government and law enforcement agencies, insurance underwriters and companies, law and accounting firms, public and private institutions, and the news media for identification, quality rating, valuation and auditing of fine gems and jewelry.
GCAL and its experts have been engaged by the Federal Trade Commission, Internal Revenue Service, U.S. Justice Department, Federal Bureau of Investigation, U.S. Customs Bureau, U.S. Secret Service, U.S. Trustee's Office, The Royal Canadian Mounted Police, The Ontario Attorney General, and the Toronto Police Services Crime Lab as a consultant, appraiser, mediator, forensic expert witness and trustee. Specifically, GCAL's Founder, Donald A. Palmieri, served as a paid consultant, appraiser, and expert witness for the FTC for over 18 years.
While GCAL, it's experts, and its founder have decades of experience in all facets of the gemstone and jewelry trade, we have been specifically engaged over the last twelve years with some of the largest online and TV sellers of diamonds, gemstones, and jewelry, performing QA, QC, and Certificate of Authenticity tasks ranging from sophisticated, non-destructive precious metal testing, to high-end diamond certification, to complex and at times, destructive gem identification.
GCAL was founded in 2001 by Donald A. Palmieri and his wife, Pamela Case Palmieri, offering a Guaranteed Diamond Grading Certificate (Industry Exclusive) and introduced the first co-branded certificates for specialty diamond cuts and retail brands. Angelo W. Palmieri joined the firm in 2005, at which time the lab was acquired by Collectors Universe, a public company, and leading coin grading company. After the 2008 financial crisis, the Palmieri Family, Don, Pam, and Angelo (equal partners) were successful at buying the laboratory back from Collectors Universe. In 2011, the Palmieri's purchased Gemprint Corporation from Collectors Universe, and continued to develop new software and hardware solutions for the diamond industry.
In 2006, GCAL became the only laboratory in the world, to offer a 4C's Consumer Guarantee, on all diamond grading certificates issued. Every diamond certificate is also accompanied by a Gemprint, which is the optical fingerprint of a diamond, for registration and recovery, and for positive identification.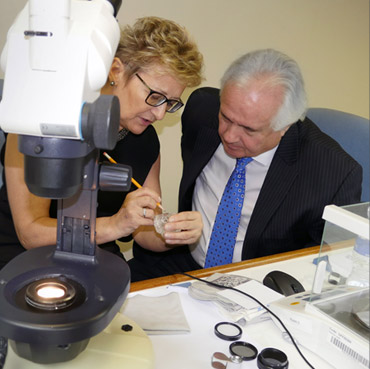 In 2008, GCAL was recognized as the first Diamond & Gemstone Grading Laboratory in North America to earn ISO 17025 Accreditation, and one of three in the world. In 2009, Tiffany's Pelham, NY private laboratory became the second in North America to earn this accreditation, which requires successful passage of stringent annual audits to maintain.
In 2010, GCAL expanded its scope of accreditation to include precious metal analysis and fancy color diamond grading.
In 2012, GCAL became the World's only ISO 17025 Accredited Forensic Laboratory in the field of Diamond, Gemstone, and Jewelry testing. That same year, GCAL also became a Certified Member of the Responsible Jewellery Council, and became the main laboratory for the Jewelers Vigilance Committee when gem identification/valuation disputes arise between consumers and jewelry sellers. GCAL's reports are used in arbitration, mediation, civil, and criminal proceedings.