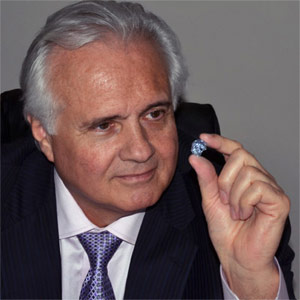 Internationally recognized gems and jewelry forensic expert, appraiser, publisher, consultant, Chapter 11 and Liquidating Trustee and broker, Donald A. Palmieri is President and founder (2001) of Gem Certification & Assurance Lab, Inc. GCAL is the only diamond and gemstone ISO 17025 Accredited Forensic Laboratory in the world. In addition to many unique features, the GCAL Diamond Certificate is backed by an unprecedented industry exclusive "Zero Tolerance 4C's Consumer Guarantee". Palmieri is also Chairman of Gemprint Corporation, the world leader in diamond identification technology systems. Since 1982, he has continuously published Palmieri's Market Monitor®, a monthly compendium report of the diamond, gemstone, and fine jewelry wholesale and auction markets with worldwide subscriber distribution. Palmieri is also author of the GAA Appraisal Manual. Palmieri is currently serving as Chapter 11 Trustee since February 2005 in a $40 million diamond manufacturer bankruptcy case, appointed by the US Trustee, New York Southern District. In 2016, GCAL was hired by Sotheby's to analyze and appraise the 1,109.67 carats (Lesedi La Rona), largest gem quality rough diamond in the world, in Gaborone, Botswana. In addition, both in August and December 2016, GCAL was retained to work with the Yongzhou, China Security Bureau to provide forensic analysis of 34 diamonds from a $5 million robbery. GCAL has been retained to manage restorations of multimillion dollar diamonds, gemstones, and rare jewels, including vintage Cartier ear drops, and a 20 carats + D/Flawless diamond. GCAL routinely consults and appraises multi-million dollar diamonds and gems for risk analysis and damage and loss claims for international insurance companies.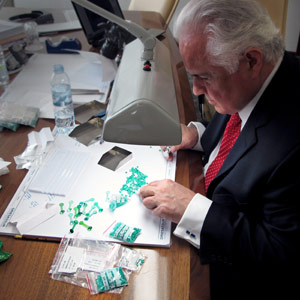 Mr. Palmieri has worked in all levels of the jewelry and gemstone profession during his 50-year career. Palmieri was recruited as an apprentice designer and jewelry craftsmen from a Fine Arts program at Baldwin High School by F.J. Bauer Manufacturing Jewelers. Starting at the age of 18 as a jewelry apprentice, designer and special order jeweler, then to retail as salesman, designer, buyer, appraiser, and later as a wholesale sales representative of two major companies, Seiko Time Corporation and Baumgold Bros. Inc. (diamond cutters) covering New England, New York and Pennsylvania. He served in the U.S. Military from 1966-1969 and is a decorated Vietnam veteran. Palmieri has worked for well-known companies in western Pennsylvania, such as F. J. Bauer Co., Bailey, Banks & Biddle, and Hardy & Hayes, before starting his own business in 1978. While at Hardy & Hayes, he was assigned the task of designing an Apollo 16 Emblem Brooch for North American Rockwell, a Pittsburgh Corporation. The brooch was taken to the moon by Astronauts on Apollo 16 Lunar Landing. In 1986 (21 years after his graduation), Palmieri was inducted into the Baldwin High School Fine Arts, Hall of Fame. Mr. Palmieri is a 1971 graduate in residence of the Gemological Institute of America, Santa Monica, CA (now located in Carlsbad, CA). He is a 2011 graduate of the Foundation FGA Course through the Gemmological Association of Great Britain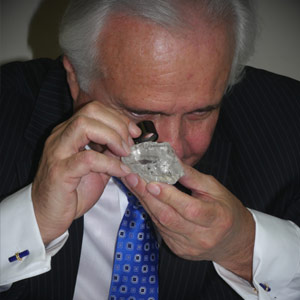 Palmieri has been under contract with the Federal Trade Commission, Internal Revenue Service, U.S. Justice Department, Federal Bureau of Investigation, U.S. Customs Bureau, U.S. Secret Service, U.S. Trustee's Office, The Pennsylvania Attorney General's Office, The Royal Canadian Mounted Police, The Ontario Attorney General, and The Yongzhou Security Bureau as a consultant, appraiser, mediator, forensic expert witness and trustee. His expertise is frequently sought by banks, museums, foundations, insurance companies, the jewelry trade – both wholesale and retail, law firms, accounting firms and individuals as jewelry authenticity, quality and value comes into question, and has been called upon to testify as an expert witness in major court cases throughout the United States, Canada, Singapore, The Bahamas, Israel, and China.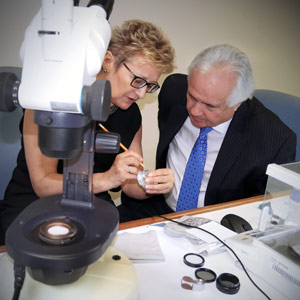 Palmieri has been interviewed frequently for such publications as Forbes, New York Times, Vanity Fair, NY Post, NY Daily News, INC Online, Wall Street Journal, Consumer Reports, Barron's, Money Magazine, The Straight Times in Singapore and others. In addition, he has been interviewed regularly in international and national news programs, i.e. CNN International, CNN American Morning, CNN Situation Room, The Today Show (NBC), The Early Show (CBS), Good Morning America (ABC), Inside Edition, The History Channel and Consumer Reports TV, and Pittsburgh and Western Pennsylvania magazines and publications, as well as national and local market television talk shows and radio programs in New York, Washington, DC, Norfolk, Atlanta and Pittsburgh. He also lectures at Trade Shows, Appraisal Conferences, Museums (Carnegie and Smithsonian), The National Forensic Center, American Society of Appraisers (ASA), International Fine Art & Specie Insurance Conference (IFASIC), and Business and Professional Group Meetings.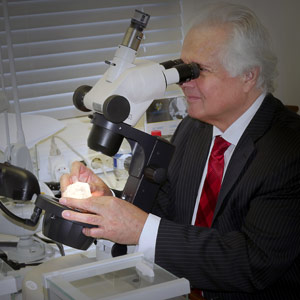 A Graduate Gemologist (GIA), Senior Member, Master Gemologist Appraiser® (American Society of Appraisers), Palmieri has served two terms as Regional Governor (Region 1, PA, NJ & DE) for the American Society of Appraisers, as well as Pittsburgh Chapter Director and President. He is a past Regional Governor and Chairman of the International Board of Examiners for the Accredited Gemologists Association (AGA) and past Director and co-author of the "Master Gemologist Appraiser" certification program before its merger into the American Society of Appraisers. He is past Director of Education for AGA and a past member of the International Board of Examiners and the Gems & Jewelry Committee of the American Society of Appraisers. Mr. Palmieri has been on staff as a research associate with the Carnegie Museum of Natural History, Earth Sciences division since 1983. He served on the Board of Trustees of the Carnegie Museum from 1999 to 2010. From 1986 until his move to New York in 1999, he taught classes for the Carnegie Education Division in gemology, gem sciences and jewelry. Mr. Palmieri is a member of the Diamond Manufacturers and Importers Association of America (DMIA), the American Society of Appraisers (ASA), the American Gem Trade Association (AGTA), the Manufacturing Jewelers & Suppliers Assoc. (MJSA), the Jewelers Board of Trade (JBT), Jewelers Security Alliance (JSA), Jewelers Vigilance Committee (JVC), and the Responsible Jewellers Council (RJC).