GCAL founder, Donald A. Palmieri and experts routinely tackle the toughest appraisal assignments for government agencies, insurance agencies, underwriters and claims, museums, auction houses, and collectors in the US and abroad.
Don has a rich history as an international gems and jewelry expert appraiser that spans well over forty years. At every stage of his career he has been a procedure inventor, author, and teacher as well as a constant student of gemology and valuation sciences. Inside Palmieri's midtown Manhattan laboratory is a cadre of gemological and business experts with advanced skills and knowledge in the fields of diamonds, gemstones, and precious metals.
GCAL is the only independent gems and jewelry laboratory in North America that is recognized, annually tested and accredited to meet the requirements of international standard ISO/IEC 17025:2005 and Forensic Science Laboratory Accreditation Program (FSLAP) based on ILACG 19:2002 while demonstrating technical competence in the fields of testing. This accreditation demonstrates technical competence for a defined scope and the operation of a laboratory quality management system.
Our appraisal assignments throughout the years have come from the public, insurance companies (including underwriters and claims adjusters), museums, collectors, law firms, and the following government agencies: the Federal Trade Commission, the Federal Bureau of Investigation, the Justice Department, US Customs, the Internal Revenue Service, US Secret Service and United States Trustees Office, as well as state and city government agencies.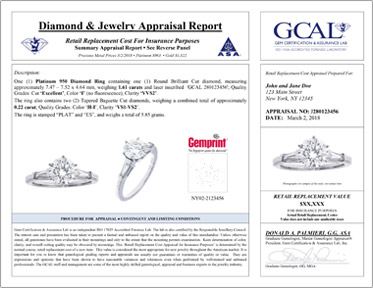 GCAL has also performed appraisal assignments for the York Police, the Office of Provincial Police, and the Toronto Police Services Crime Lab, all the aforementioned in Canada. In addition, we have performed appraisal assignments for the London Police (UK), and the Yongzhou Security Bureau (China).
GCAL's appraisal division, Gemological Appraisal Association, is highly experienced in all types of appraisals, including Retail Replacement for insurance purposes, Fair Market Value for charitable donation, and Marketable Cash Value for legal and personal settlements. We specialize in complex appraisals such as those requiring analysis of damage and hypothetical valuation.
All jewelry is examined by our team of expert gemologists in our ISO 17025 Accredited Laboratory in New York City. Jewelry can be sent to us by mail or delivered in person, by appointment only. Typically, items submitted by 10 am are returned later the same day. Appraisal fees start at $200 for an item with up to 1.99 carats total weight of diamonds. Please call us for more information or to make an appointment 212-869-8985.