GCAL Launches 8X® Proprietary Cut Grades with Retail Jeweler JannPaul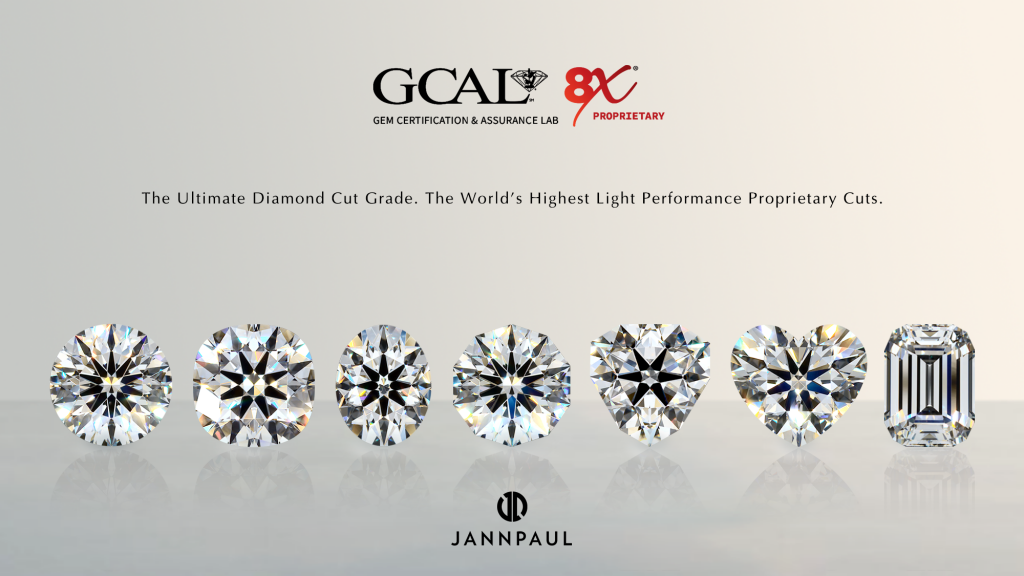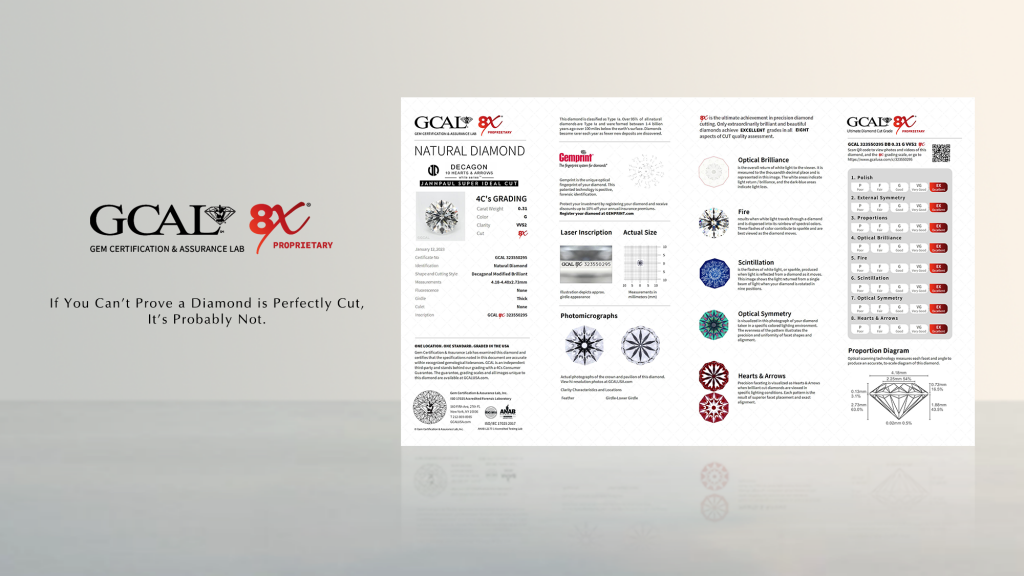 Expanding on the success of GCAL's 8X® Cut Grades, new 8X® Proprietary Certificates are available for patented and specialty cuts and can be customized to include a client's brand and logo. The world's first 8X® Proprietary Certificates are in association with JannPaul Diamonds, an innovative premier diamond retailer, based in Singapore.
The 8X® Cut Grade Certificate was introduced by GCAL in 2021 as the Ultimate Diamond Cut Grade for Round Brilliant, Princess and Oval Brilliant cuts. It encompasses eight aspects of evaluation, including both traditional cut analysis methods (polish, symmetry, and proportion analysis) and direct assessment of the actual light performance (including brilliance, fire, scintillation, and optical symmetry). As a result, new 8X® Proprietary Cut Grades are possible for all shapes and faceting styles under the same eight categories to visually, scientifically, and accurately demonstrate cut quality. This unique approach brings a higher level of transparency to the process and helps consumers make informed purchasing decisions when selecting diamonds with optimal light performance.
Today there is a continuous demand for differentiation and consumers are increasingly educated. They are asking retail jewelers to provide transparency in all aspects of the products they are purchasing, including both natural and lab grown diamonds. "Consumers drive demand and with the new GCAL 8X® Proprietary certifications, jewelers will not only be able to differentiate with new products, but they'll be able to keep up with the rapid shift in the demands of a new generation of consumers." explained Paul Hung, founder and CEO of JannPaul.
"JannPaul is world renowned for their exacting standards and exceptional patented diamond cuts. It's an honor that they've selected GCAL as their grading laboratory" said Angelo Palmieri, COO and co-owner of GCAL. "They have an amazing ability to design and execute innovative diamond cuts that deserve to be recognized through a multitude of metrics that help consumers appreciate their outstanding precision."
Founded by CEO Paul Hung in 2010, JannPaul has been transformative in the diamond industry with their focus on diamond cuts and consumer education. JannPaul is home to 10 proprietary diamond patents including the White Series Collection, featuring a variety of high-performance diamond shapes, each a breakthrough and revolutionary cut that surpasses its traditional counterparts.
"At JannPaul, we are always looking for ways to improve our customers' experience and provide them with the best possible products and services," said Paul, "After 20 years of searching for a laboratory that can grade diamond cuts accurately, I have found that GCAL, especially with their 8X® cut grade, meets all the criteria that I have been looking for. It allows consumers to look at a certificate, understand it, and walk away knowing that they have purchased the most beautiful diamond."
"GCAL fully embodies the essence of consumer protection and transparency in the diamond industry," said Paul. "In my honest opinion, GCAL is currently the most stringent laboratory in the world, and they have never compromised on grading results. For the past 6 months, I have been working with the team of GCAL, testing their consistency by sending them various diamonds. Through this process, we have discovered that GCAL has remained consistent with the original grading system first established by GIA. We have found almost no discrepancies in color and clarity grading."
"For example," continued Paul, "two diamonds could be graded Triple Excellent or (formerly) Triple Ideal Zero, though one is far superior to the other. GCAL, on the other hand, has the technology and scientific knowledge to demonstrate the diamonds' inequality."
Considering the continuous growth of fancy shapes and consumers' demand for unique options, the increased interest in proprietary cut diamond should not be surprising to the jewelry industry. According to Angelo, "In 2020, and for the first time, the number of Fancies coming through the GCAL lab surpassed Rounds. And this trend is continuing. This is why we introduced the Oval and Princess 8X® diamonds at JCK last year, and why 8X® Cushions and Radiants are in the works. Proprietary cuts are a logical addition to the 8X® grading system."
"Today, diamonds are being designed and precisely faceted in patterns and shapes we would have once thought unimaginable." said Angelo Palmieri, COO and co-owner of GCAL. "We have experienced a great deal of interest in 8X® cut grading on proprietary cut diamonds and the stones coming through our lab are nothing short of sensational."
To inquire about setting up 8X® Cut Grades for your Proprietary Cuts, please contact GCAL at 212-869-8985, or email awp@gcalusa.com
JannPaul Round 10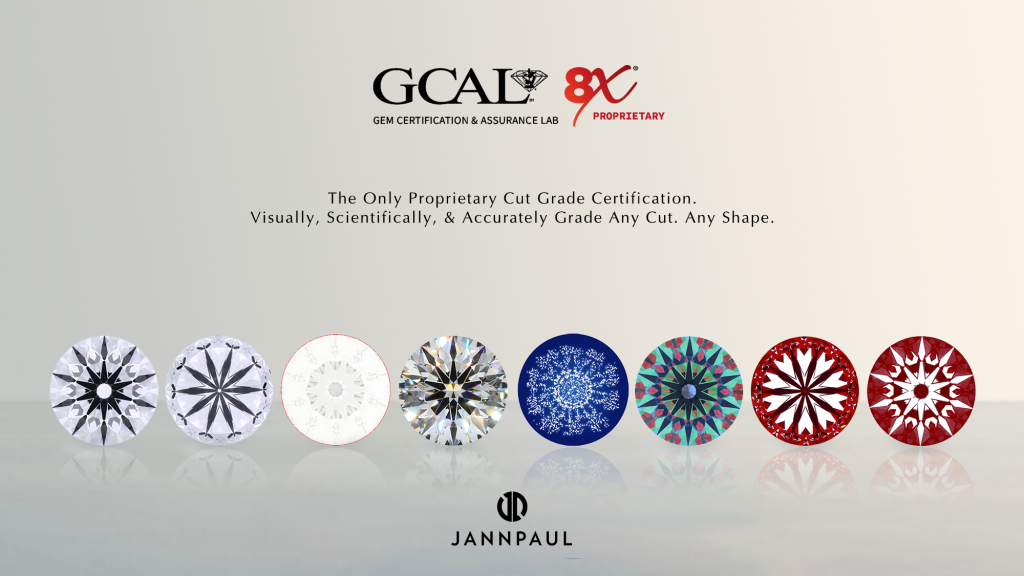 JannPaul Decagon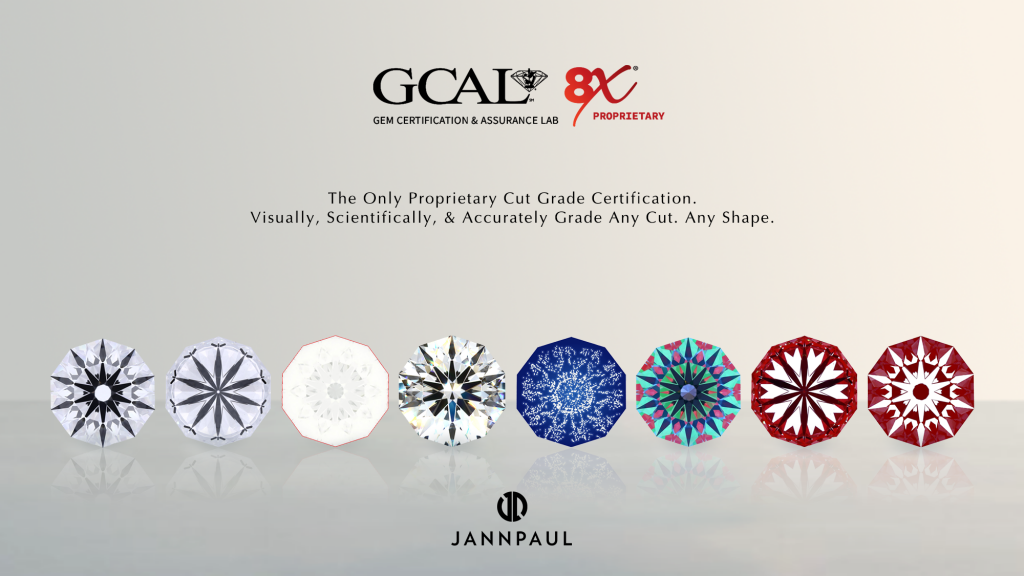 JannPaul Cushion 8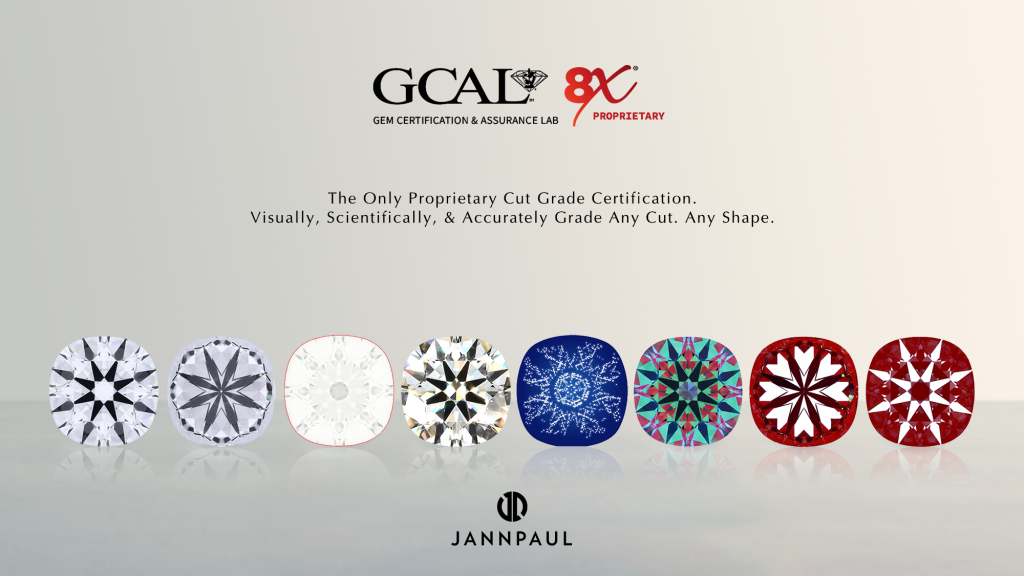 JannPaul Oval 8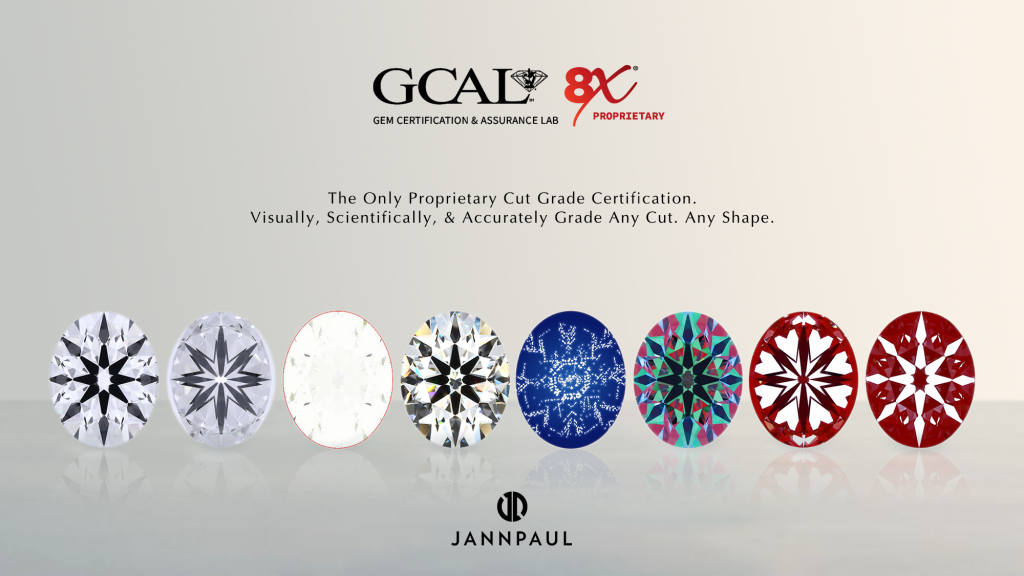 JannPaul Shield 2.0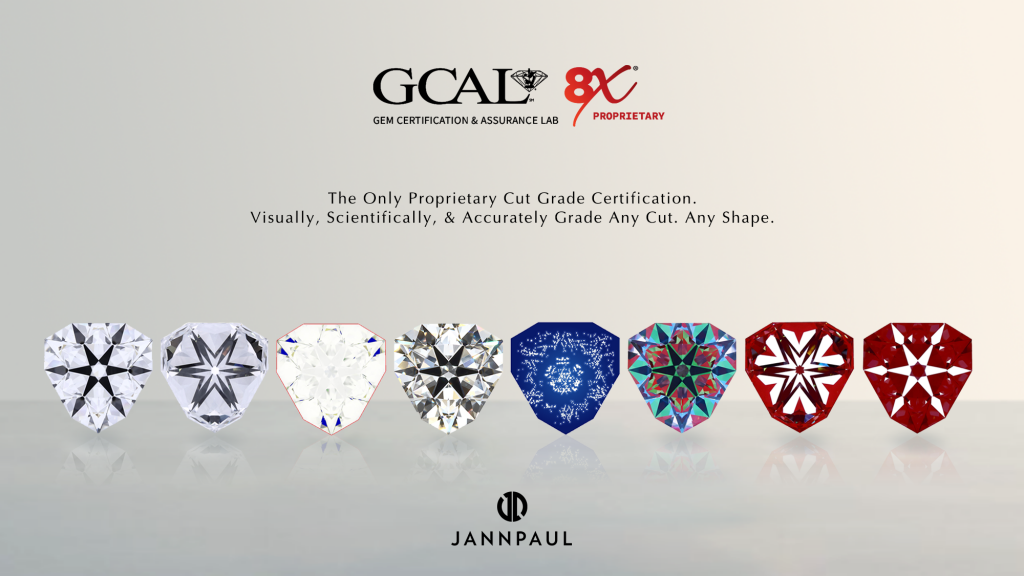 JannPaul Heart 2.0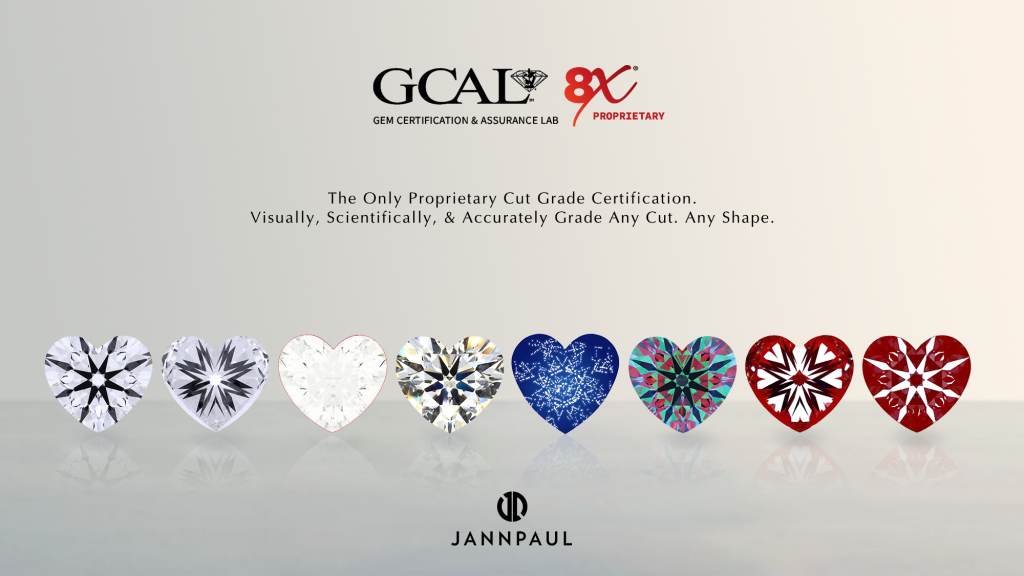 JannPaul Emerald 2.0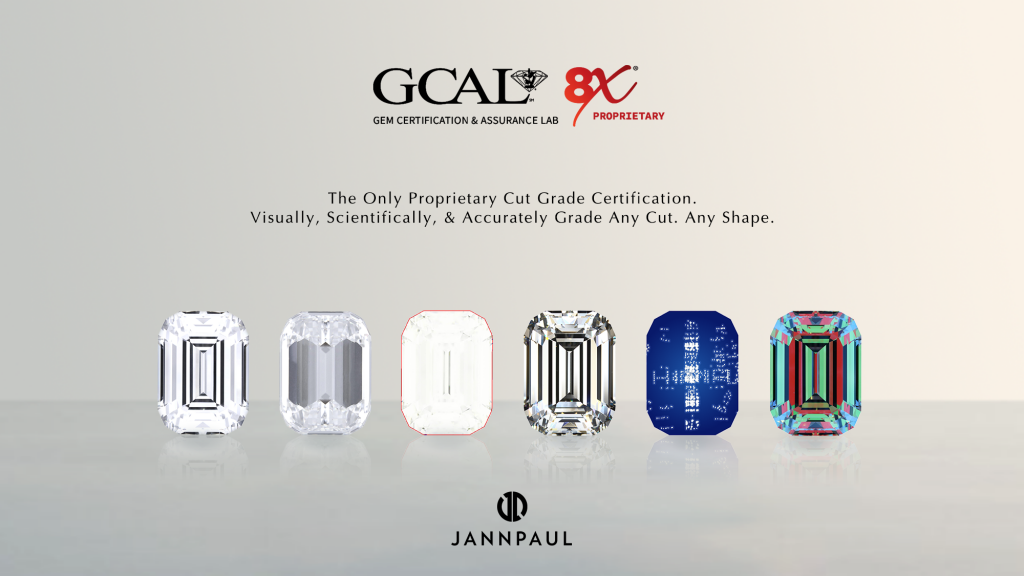 About JannPaul
JannPaul, founded by Paul Hung in 2010, is a pioneering, innovative luxury diamond jeweler based in Singapore, known for revolutionizing the diamond industry with their unique approach to diamond jewelry and engagement rings, along with exceptional customer service that sets them apart from traditional jewelers.
JannPaul is world renowned for only carrying the highest quality diamonds with a focus on proprietary diamond cuts that supersede every other known traditional diamond cuts in the industry.
In 2008, JannPaul introduced Super Ideal Cut Round diamonds to Asia, characterized by the tightest proportions and optical precision criteria. In 2009, Mr. Hung designed and patented Octagon Hearts and Arrows as well as Cushion Hearts and Arrows diamonds.
From 2018 to 2020, Paul collaborated closely with the research and development team at AGS Laboratories, working on product launches and researching ways to provide consumers with greater transparency and information to make informed purchases. JannPaul then launched their White Series Collection, which had been in research and development for over 10 years. The collection includes the Decagon 10 Hearts & Arrows, the Cushion 8 Hearts & Arrows, and Round 10 Hearts & Arrows. Each utilizes virtual faceting and advanced cutting methods, which is a step up even from the highest standards of super ideal cuts. White Series diamond cuts have a proprietary facet arrangement, and additional facets to enhance fire, scintillation, brightness and brilliance.
In 2021, the company released a true Oval 8 Hearts & Arrows diamond, followed by the Emerald 2.0, an improved version of the traditional emerald cut that surpasses performance under all lighting conditions. The following year, they released their Heart-Shaped Hearts & Arrows diamond, and Shield-Shape Hearts & Arrows, which exhibit exceptional optical light performance that rivals, and even surpasses traditional Round 57-facet Hearts & Arrows (Super Ideal Cut) diamonds.
About GCAL (Gem Certification & Assurance Lab, Inc.
GCAL protects consumers, retailers, and manufacturers with a unique suite of certification, identification and forensic services for lab grown and natural diamonds, gemstones, and jewelry. GCAL's mission is to provide the most accurate and consistent gemological services with uncompromising integrity and unparalleled customer care.
GCAL is still the only gem lab in the world to stand behind their grading with a zero tolerance, money-backed consumer guarantee. Guaranteed certificates also include a Gemprint® fingerprint image, Cut Grades on all diamond shapes, Light Performance and Photomicrography. GCAL is the only gem lab in the world to have earned the prestigious ISO 17025 Forensic Accreditation, and the first diamond lab in the world to achieve SCS Global Services Accreditation.
In 2021, GCAL introduced the 8X® ultimate diamond cut grade.  Rather than only Cut, Polish and Symmetry, GCAL focused on 8 critical aspects of cut quality assessment, and all 8 must achieve a grade of excellent to quality as an 8X® diamond.  They are: Polish, External Symmetry, Proportions, Optical Brilliance, Fire, Scintillation, Optical Symmetry and Hearts & Arrows.
Read Press Articles about this Post
National Jeweler: https://nationaljeweler.com/articles/11799-gcal-introduces-8x-cut-grade-for-proprietary-cuts
Rapaport: https://rapaport.com/news/gcal-launches-8x-grade-for-proprietary-cuts/
InStore Mag: https://instoremag.com/gcal-launches-8x-proprietary-cut-grades-with-retail-jeweler-jannpaul/
Idex Online: http://www.idexonline.com/FullArticle?Id=48401
Southern Jewelry News: https://southernjewelrynews.com/latest-news/whats-new/gcal-launches-8x-proprietary-cut-grades-with-retailer-jannpaul/
Jewellery Business: https://www.jewellerybusiness.com/news/8x-diamond-cut-lab-launches-proprietary-grading-certificates/