GCAL Partners with VDB to add 8X® Cut Grade Search Filter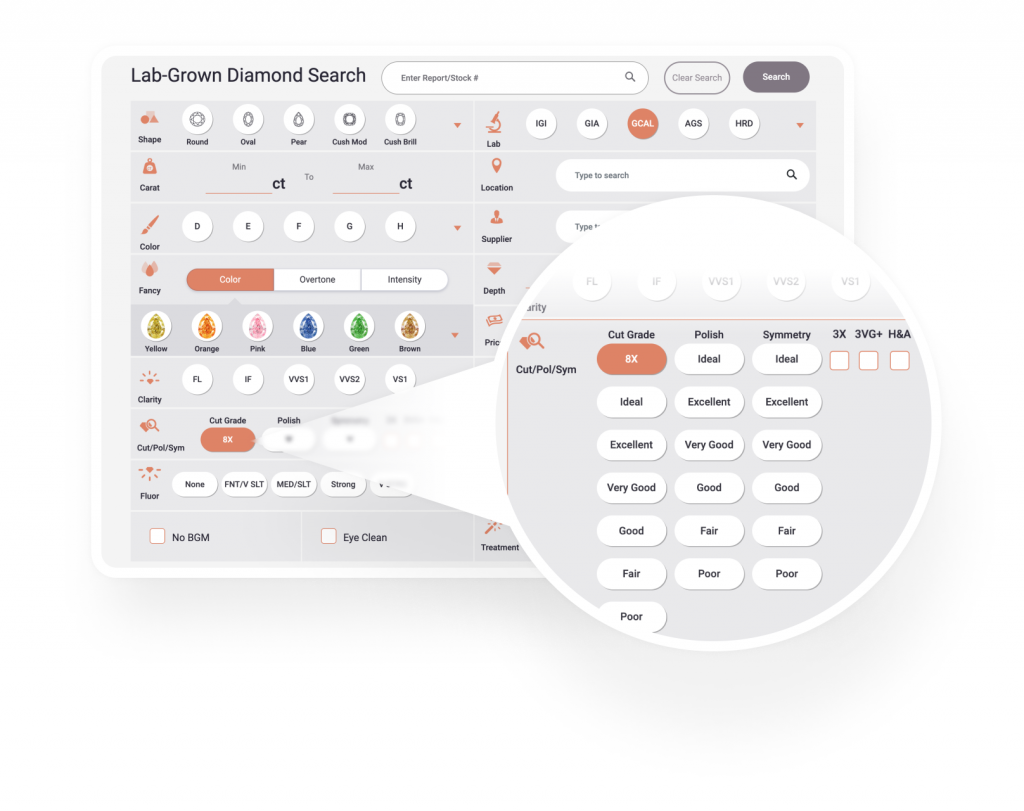 New York, NY May 25, 2022: GCAL (Gem Certification and Assurance Lab) has partnered with VDB (Virtual Diamond Boutique), the jewelry industry's leading technology partner, to include the 8X® Cut Grade to the diamond search filter on the VDB virtual marketplace.  To receive a grade of 8X® a diamond must score "Excellent" on all 8 aspects of Cut that GCAL evaluates. Cut grades on the VDB marketplace will now range from 8X, as the best, to Ideal to Excellent to Very Good down to Poor.
According to Angelo Palmieri, GCAL COO and partner: "This is an important step in the growth and acceptance of the 8X® diamond cut grade. Having VDB become the first to list 8X on a B2B diamond exchange is significant for many reasons. It will now be far easier for retailers to find the best of the best diamonds that their customers are requesting. Wholesalers and manufacturers can now easily search for 8X diamonds. 8X cutters and suppliers are also obvious beneficiaries. And this new search filter adds instant credibility to the growing status of the 8X cut grade. It is no surprise that VDB has once again proven to be a trendsetter and a leader in the fine jewelry industry."
The launch of the 8X filter in the VDB diamond search coincides with the launch of GCAL's 8X® Oval and 8X® Princess cut grades. Fancy shape diamonds are typically only graded for polish and symmetry and are not usually searchable by cut grade. Given the recent growth and rise in popularity of fancy shape diamonds, the new VDB search filter will become a helpful benefit to the diamond and fine jewelry industry. 
Tanya Nisguretsky, co-founder and President of VDB added, "At VDB, we are always looking for ways to help retailers assist their customers in finding their own perfect diamond, gemstone, or piece of jewelry. We are honored to work with GCAL to add the 8X cut grade to our diamond search filter, making it both easy and efficient for buyers and their customers who are seeking 8X to find it. Because we are a technology company, we have the resources to quickly adapt to market developments, such as the rising popularity of both the 8X cut grade and fancy shaped diamonds."
About GCAL / Gem Certification & Assurance Lab: GCAL, the innovative, state-of-the-art gemstone laboratory that created 8X®, the ultimate diamond cut grade, protects consumers, retailers, and manufacturers with a unique suite of certification, identification and forensic services for lab grown and natural diamonds, gemstones, and jewelry. GCAL's mission is to provide the most accurate and consistent gemological services with uncompromising integrity and unparalleled customer care. GCAL remains the only gem lab in the world to stand behind their grading with a zero tolerance, money-backed consumer guarantee. Guaranteed certificates also include Gemprint® fingerprint image, Cut Grades on all diamond shapes, Light Performance and Photomicrography. GCAL is the only gem lab in the world to have earned the prestigious ISO 17025 Forensic Accreditation, and the first diamond lab in the world to achieve SCS Global Services Accreditation. For more information, please visit GCAL at www.gcalusa.com
About Virtual Diamond Boutique: Virtual Diamond Boutique (VDB) is a global technology company serving the jewelry industry with a marketplace app and an entire digital toolbox for suppliers and retailers. They have combined deep jewelry industry knowledge with top technical talent to create jewelry technology that helps build store traffic, facilitates in-store engagement, and assists jewelers at all levels of the industry with sourcing, buying, and selling. For more information, visit VDB at www.vdbapp.com or email at info@vdbapp.com.