Merger of GCAL into the Sarine Group Completed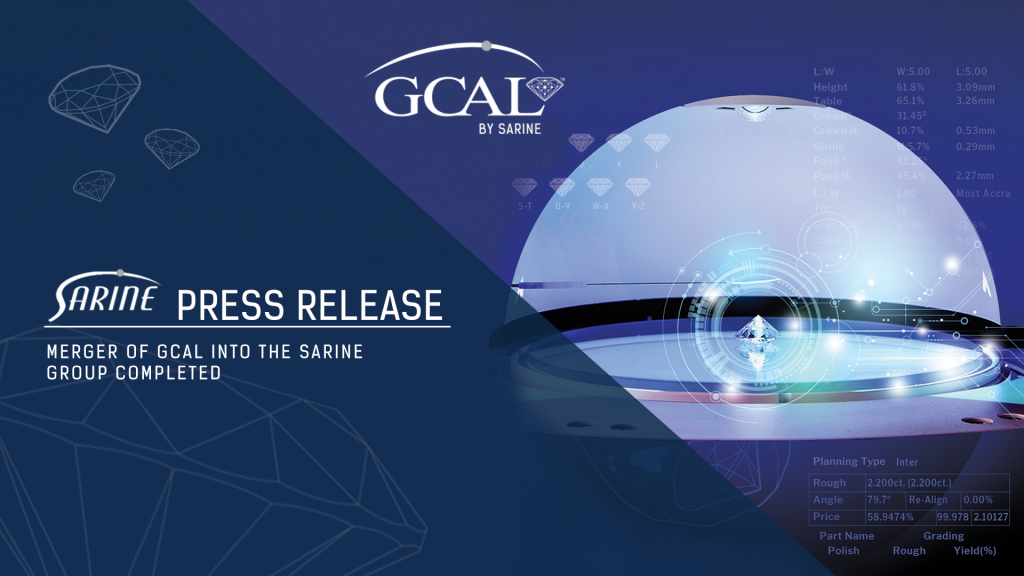 Synergies between GCAL's quality processes and Sarine's advanced technologies and installed base create significant growth opportunitiesin U.S. and worldwide
Hod Hasharon (Israel), 10 May 2023 – Singapore Exchange Mainboard (SGX) and Tel-Aviv (TASE) listed Sarine Technologies Ltd. ("Sarine" and along with its subsidiaries "the Group") (U77:SI; SARN.TA), a worldwide leader in the development, manufacturing, marketing and sale of precision technology products for the evaluation, planning, processing, measurement, grading and trading of diamonds and gems, is pleased to announce the closing of the acquisition agreement between Sarine and the Gem Certification & Assurance Lab, Inc (GCAL).
The merger creates a robust synergy between Sarine's leading technologies, and in particular its revolutionary AI-derived cloud-based on-site e-Grading™ system and verifiable data based Sarine Journey™ traceability paradigm, and GCAL's strong brand in the US market and uncompromising quality control, backed by its industry-unique, consumer money-backed guarantee. The new merged entity, GCAL USA LLC, will be part of the Sarine group but will continue to be led and managed by GCAL's experienced management team, which will retain a significant interest in the company as part of the deal.
GCAL's existing customers will continue to receive GCAL's grading and certification services uninterrupted. In addition, U.S. (and worldwide) customers will be able to receive their guaranteed GCAL grading certificates not only for polished diamonds graded in the U.S. for specific programs, but also for the many diamonds processed through Sarine's growing installed base of grading systems in the various manufacturing hubs, that will enable grading and sorting on-site at a fraction of the time and without the indirect costs of sending to a third party external gem lab, along with optional verifiable traceability data.
David Block Sarine's CEO commented, "I am thrilled by the opportunities created by this merger. First and foremost, because we have found a partner that shares our values — quality, consistency, reliability, transparency and customer centricity. Secondly, I truly believe that the merger will provide the U.S. and other markets a much-needed solution to their pressing concerns for fast, accurate, consistent and efficient grading, along with optional provenance data, critical in these times of geopolitical unrest. I have absolute confidence in GCAL's founders' commitment to these common principles, whom I welcome into the Sarine family, and in the leadership they will continue to provide to our joint endeavor in the years to come.
Angelo Palmieri, President of GCAL USA said, "This merger is exciting for all of us. I strongly believe that it will allow us not only to continue the impressive growth we have experienced over the past few years, but also to significantly expand it. Upholding our core values while expanding GCAL is our primary condition for global growth. By leveraging Sarine's advanced AI grading technology, we can extend our grading services worldwide while preserving the accuracy and precision our customers have come to depend on.. Alongside Don and Pam, who established our laboratory over two decades ago, we are eager to advance our mission, as an integral part of the Sarine group.
Don Palmieri, Founding Partner of GCAL USA, along with wife Pam, added: "This is an emotional moment for us. This merger will support our crusade of many decades to insist on issuing highly reliable quality certificates, which protect our industry, and most importantly, the consumer. We are excited by this opportunity to join forces with Sarine, which has developed a technological solution that enables bringing our stringent quality guarantee to a broader market on an expansive scale.
About Sarine Technologies: Established in 1988, Sarine Technologies Ltd. is a worldwide leader in the development and manufacturing of advanced modeling, analysis, evaluation, planning, processing, finishing, grading and trading systems for diamonds. Sarine products include the Galaxy® family of inclusion and tension mapping systems, rough diamond planning and optimisation technologies, laser cutting and shaping tools, laser-marking, inscription and fingerprinting equipment, automated (AI-derived) Clarity, Color, Cut and light performance grading systems and traceability, visualisation and retailing services. Sarine systems have become standard tools in every modern manufacturing plant, properly equipped gemology lab and diamond appraisal business, and are essential aids for diamond polishers, dealers and retailers. For more information about Sarine and its products and services, visit http://www.sarine.com