Retailer Survey Results
GCAL's recent Supplier Survey targeted global supply chain disruptions, with an emphasis and focus on India, since it is estimated that 90% of the world's diamonds are cut and polished there. The results were illuminating to say the least, and of course shared with the industry via our weekly email messages, as well as posting the results on our website and blog. 
We determined a logical follow up would be to survey retailers. The focus would be more broad based, but certainly included a question about these same supply chain disruptions. The response was far greater than expected, providing insight into what retailers are thinking and doing today, as well as planning for the holidays.
We thought it would be useful to not only share the results of this latest GCAL survey, but to combine the responses of both the retailer and supplier surveys to see what additional insights we could learn and draw from. Following are the results of our effort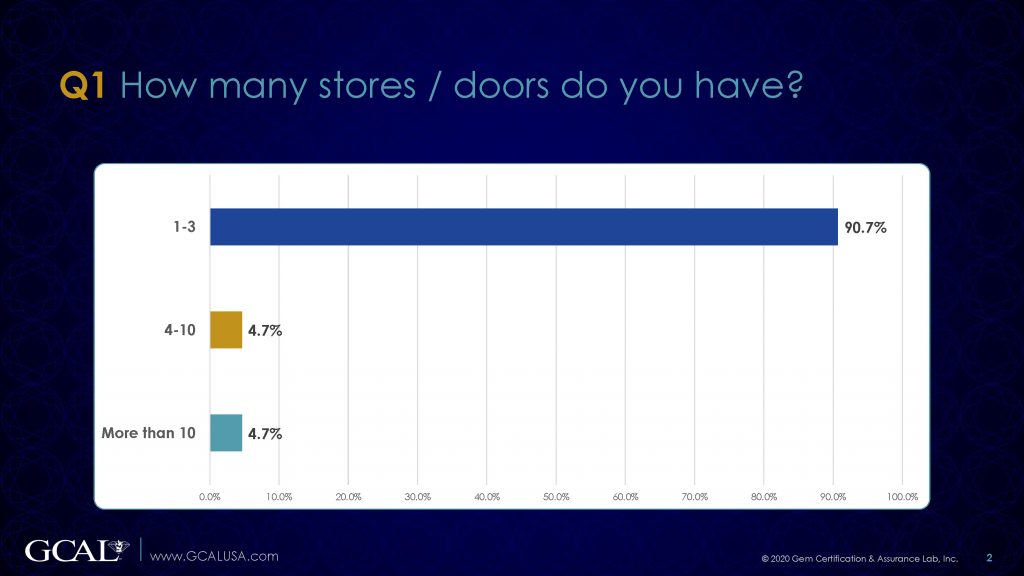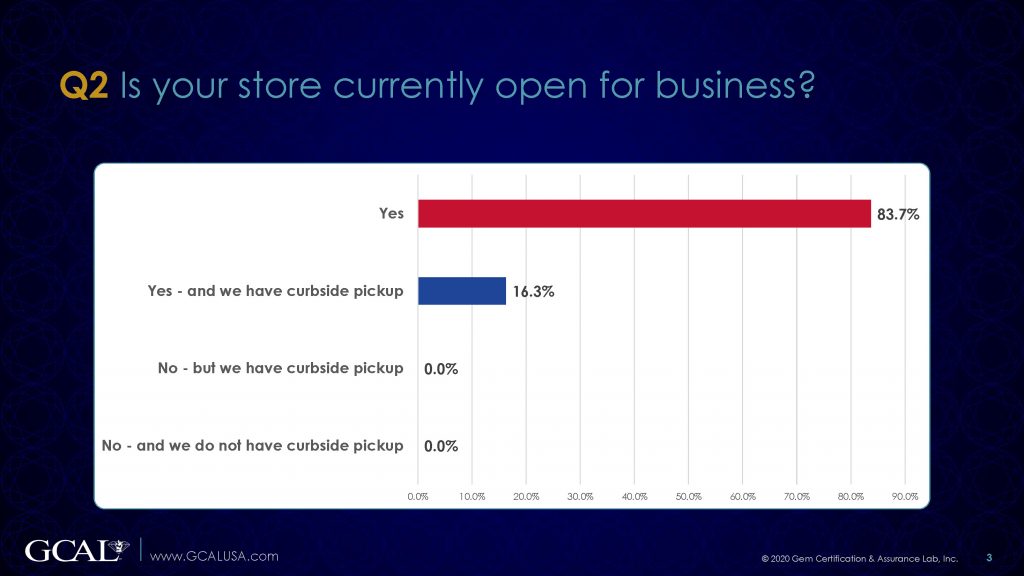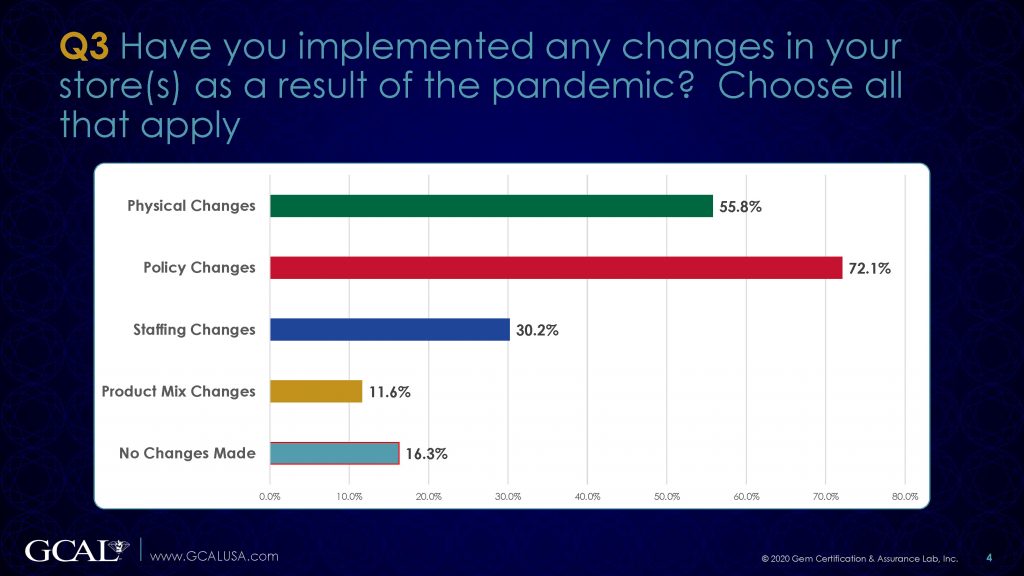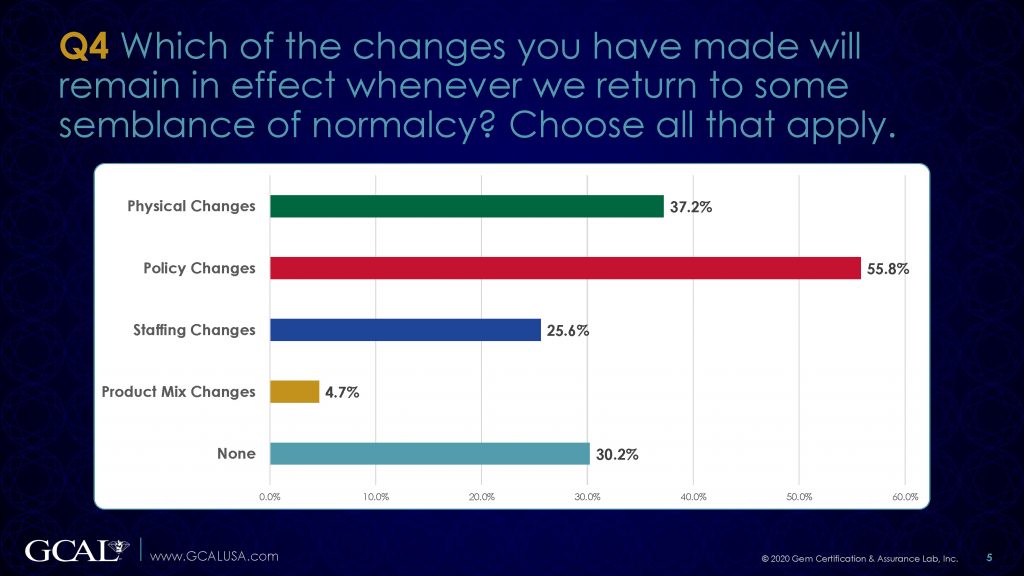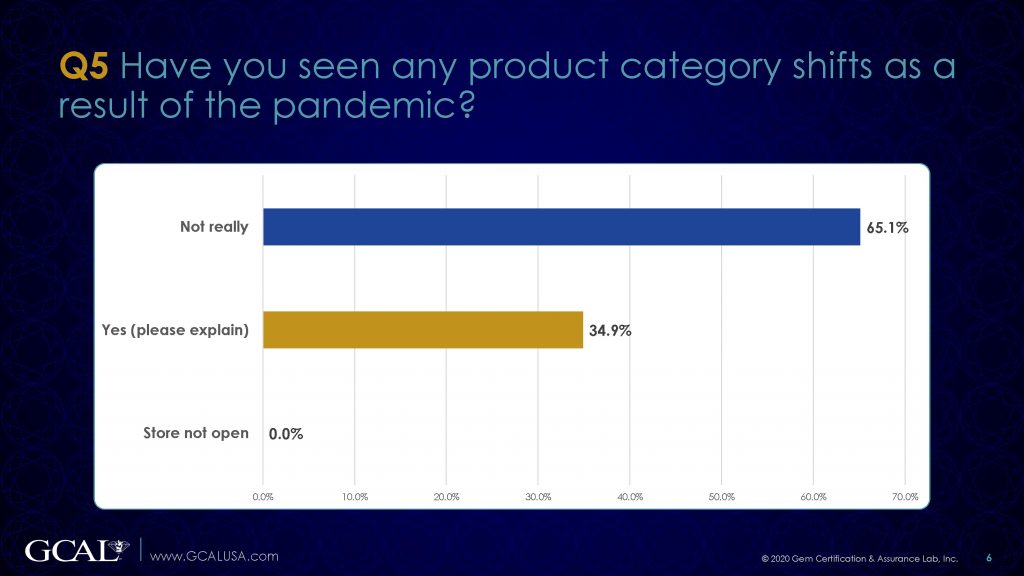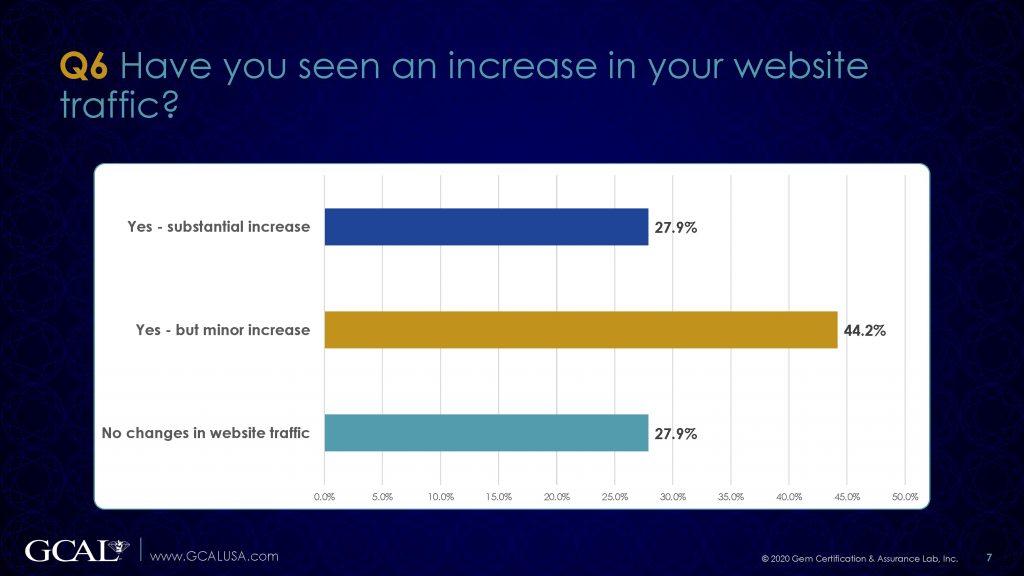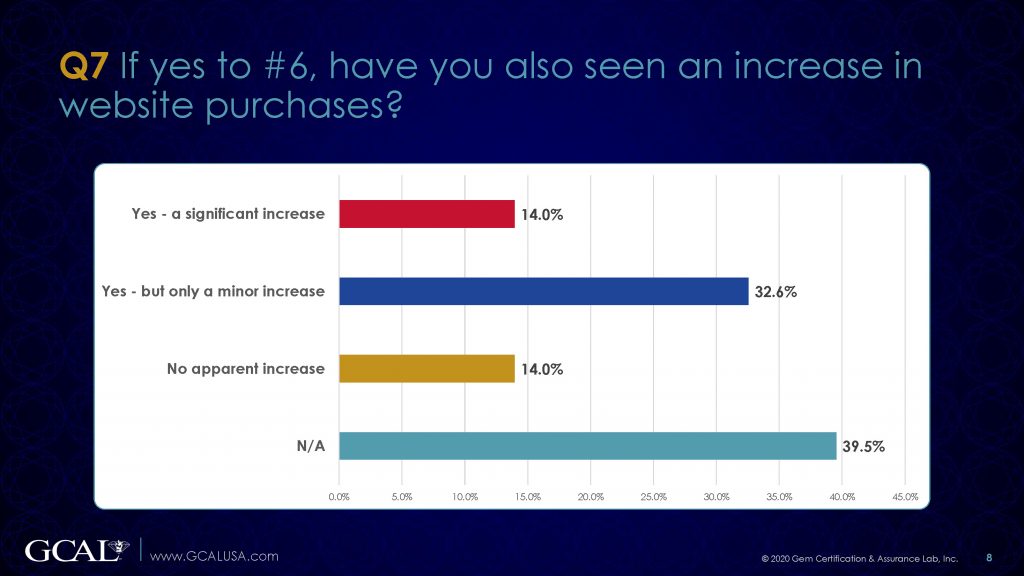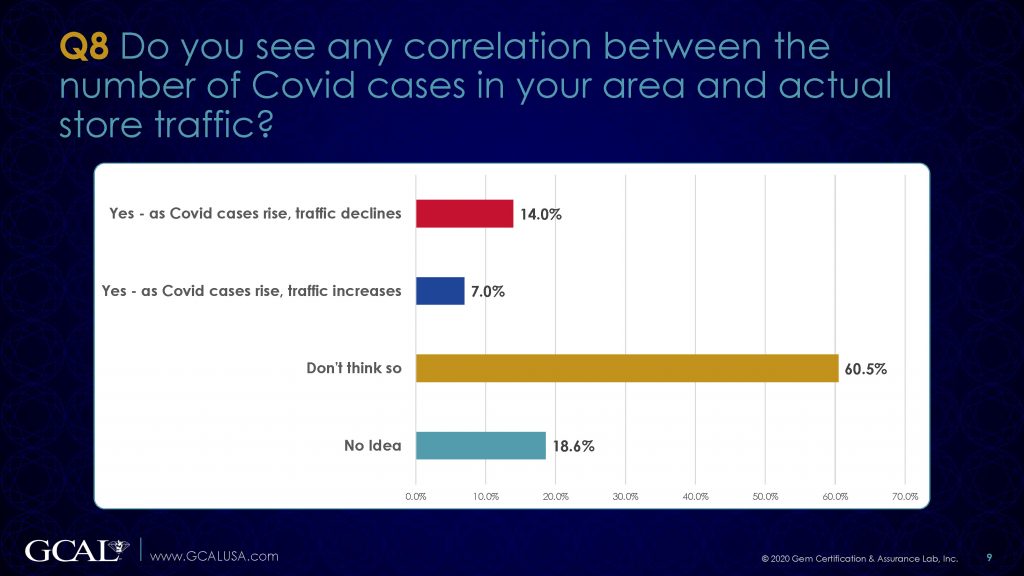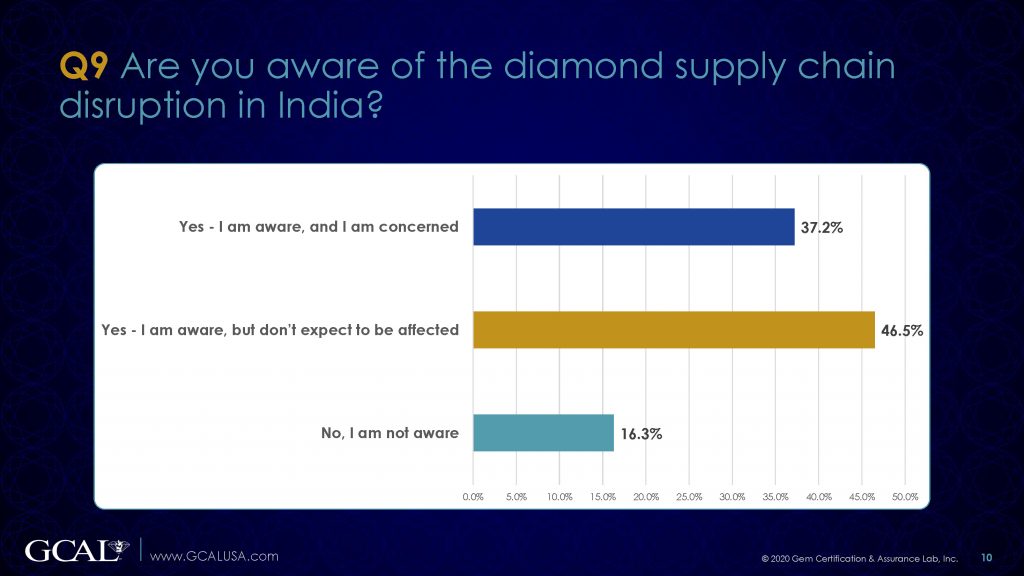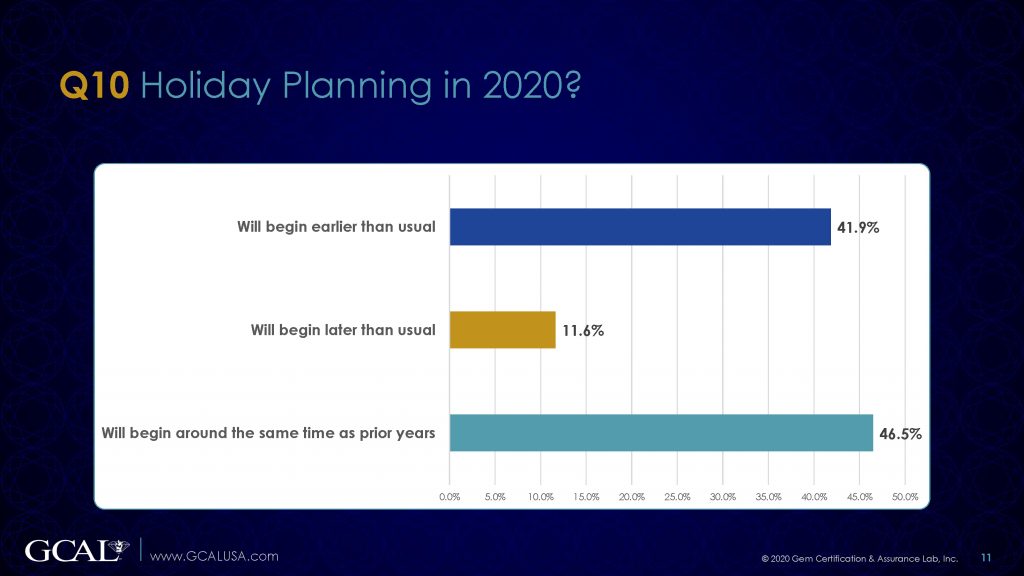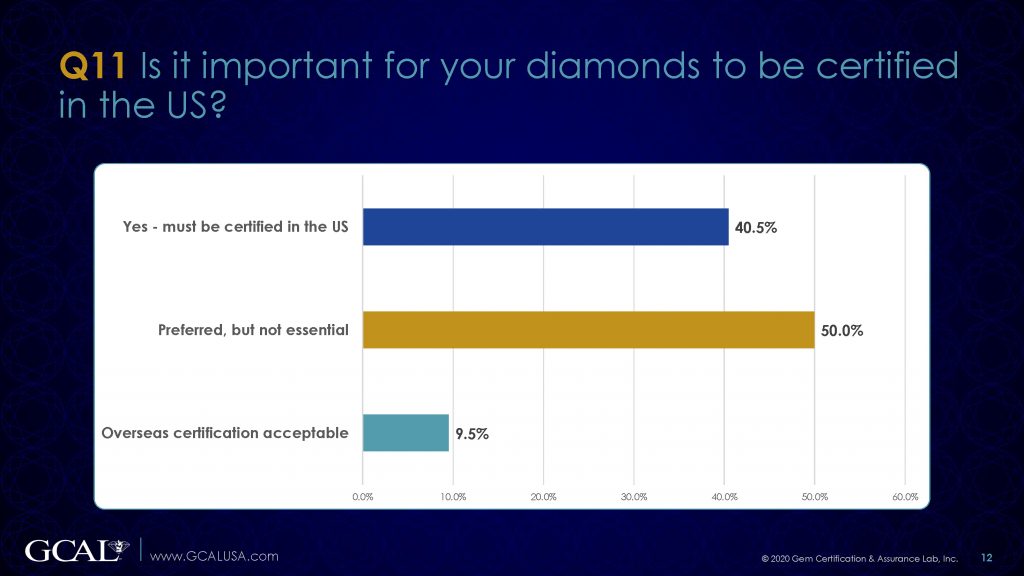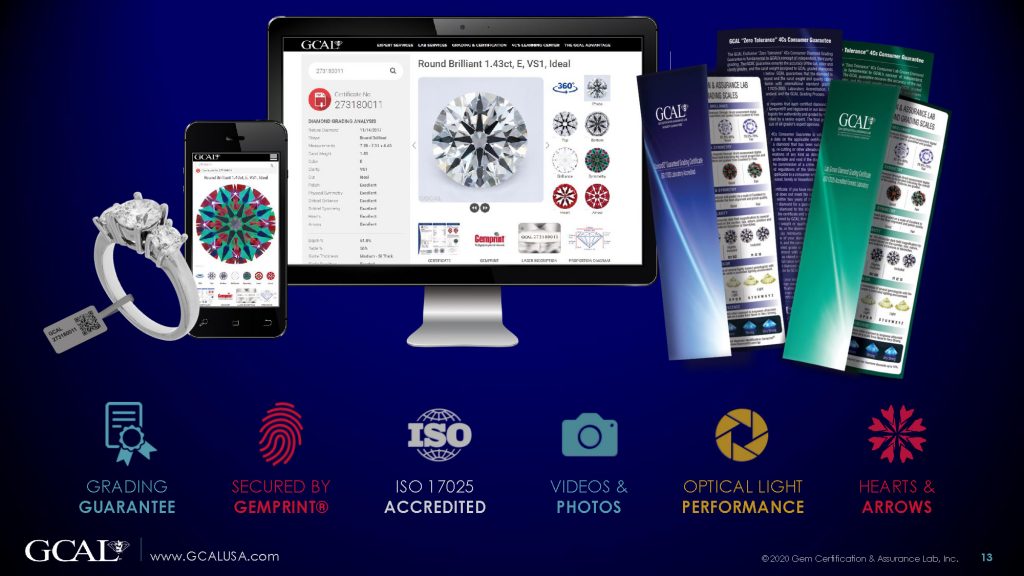 Bridal remains strong
It will likely not be surprising to learn that during the surge in sales during June thru August, 85% of retailers reported bridal as their strongest category, with an emphasis on engagement rings.
Diamond Supply Chain DisruptionsPerhaps the most interesting question asked, and potentially the most impactful, was possible diamond supply chain disruptions in India, especially as it relates to the critically important upcoming holiday season. Somewhat alarming, there seems to be a potential disconnect between retailers and suppliers.
Most suppliers reported a decrease in production… resulting in a likely decrease in shipments… leading to shortages at the retail level
Exactly half of them assess the current status of supply as "severely limited"
But every single supplier (100%) categorized current production as either limited or reduced.
Here's the Disconnect:
37.2% of retailers were aware of this, and are very concerned
However, almost half (46.5%) were also aware of the pending crisis, but believed it would not impact their business
Perhaps more disappointing, 16.3% of retailers were completely unaware of the potential crisis
Supplier View of Diamond Holiday Supply for Retailers:
The vast majority of suppliers (83.4%) believe the impact of holiday supply for retailers will be severe:
Two-thirds (66.7%) believe the impact of supply is minor now, but could become more severe in the months ahead
Unfortunately, 16.7% of suppliers believe the impact is already severe, and will continue through the holidays
Again, however, the disconnect bears repeating. Almost half of retailers surveyed (46.5%) said they are aware of the crisis, but don't believe it will impact their business. GCAL cannot say for sure who is correct. However, in the category of "better safe than sorry," retailers would be well advised to at least communicate with their diamond suppliers. And sooner than later.
Current Diamond Exports
A whopping two-thirds (66.7%) of suppliers estimate current diamond and diamond jewelry exports being shipped right now are below 40% of typical exports for this time of year.
While every single supplier (100%) said current exports are below 70% of typical exports for this time of year.
How Are Shortages Impacting Price?
Retailers should be aware that 78.3% of suppliers say prices are already increasing
An additional 17.4% said prices have not been impacted yet, but expect increases
While only 4.3% say prices are decreasing
Overall Results of Retailer SurveyThe survey provided good insight into retailer activities, planning and thinking:
The majority of respondents were primarily independents with 1-3 stores
All are open for business, but only 16.3% responded they were also offering curbside pickup
Store Changes as a result of the Pandemic
The vast majority (83.7%) have implemented changes as a result of the pandemic:
Most made physical changes (55.8%)
Many more made policy changes (72.1%)
A little less than one third made staffing changes (30.2%)
As for changing their product mix, only 11.6% made actual changes
And a somewhat surprising 16.3% made no changes at all
Store Changes Post-PandemicWhenever we return to some level of normalcy, here's what changes retailers expect will remain in effect:
37.2% will keep physical changes
More than half will maintain policy changes (55.8%)
25.6% will keep staffing changes
But a seemingly low 4.7% will continue with product mix changes that were made
Product Category ShiftsWhen asked specifically if they observed shifts in product categories as a result of the pandemic
A little more than one third (34.9%) responded yes, they did see shifts in product categories
However, almost two thirds (65.1%) responded "not really" to this question.
Website Traffic and SalesThe survey then turned its attention to any changes in retailers' own website traffic and sales, with results showing a bump in both:
27.9% saw a substantial increase in traffic, with 13.9% seeing a significant increase in actual online purchases
44.2% saw a minor increase in website traffic, with 32.6% of respondents seeing a similar minor uptick in web sales.
Unfortunately, the same percentage of retailers (27.9% ) also saw no change at all in website traffic. And 14% of all retailers surveyed saw no apparent increase in website purchases.
Covid Cases and Store TrafficThe survey then asked retailers a difficult question to determine if there was a perceived correlation between the number of Covid cases in their area, and actual store traffic.
60.5% didn't think there was a correlation
14.0% believe as cases increased, traffic declined
A few believed the opposite, that traffic increased as cases increased
But 18.6% had "no idea" if Covid cases impacted store traffic
Holiday PlanningOn all of our minds is certainly the upcoming holiday season. We were curious if planning schedules would change as a result of the pandemic. Results were basically split:
41.9% will plan for the holiday season earlier than usual
46.5% will begin planning around the same time as always
Not surprisingly, only 11.6% expected to begin planning later than usual
Diamond CertificationFinally, we ended our survey with a question that hits a little closer to home for GCAL, but represented a much talked about topic: domestic vs overseas diamond grading. With so many labs boasting multiple locations all over the world, including New York, we asked retailers if it was important where the diamonds were graded
90.5% responded grading in the US was either a requirement or a preference
40.5% said their diamonds must be certified in the US
50.0% preferred they be certified in the US
Less than ten percent of retailers (9.5%) found overseas certification to be acceptable
We hope you have found, as we did, the results of both the GCAL Supplier Survey and Retailer Survey to be informative and helpful. It is a dramatic understatement to say the world, and virtually everyone in it, continues to be effected by this global pandemic. But if we keep our eye on the ball; do all we can to protect our families, our colleagues and our businesses; if we stay connected, stay safe and stay focused; we will all get through this, and we'll get through it together.
Lots of good luck and success ahead. Be well. We hope to see you soon, and again on the other side.
Sincerely,Don, Pam, & Angelo Palmieri, Steve Feldman, & The GCAL Team