Webinar: GCAL Lab Update on Lab Grown Diamonds (Sharrie Woodring)
"As with our podcasts, GCAL is on a quest to bring to the industry real-time information from respected industry experts," said founder and company president Don Palmieri. "But this time the expert is GCAL's very own Sharrie Woodring." If you missed one of the most informative webinars presented on the subject of Lab Grown Diamonds (given this past Friday, November 20th), it's not too late. 

Sharrie Woodring, Senior Research Gemologist for GCAL, gave an extremely well received, fact-filled webinar entitled: "Update on Laboratory-Grown Diamonds". She covered a broad range of important topics, from how the market has evolved over the past 5 years… to a distribution breakdown by weight, shape, clarity and color… to grading and recognizing inclusions… to screening and detection… to the lab grown market itself… to appraising. Colorful graphs and charts, and amazing photography visually helped drive home key points. This is information not readily available, and rarely if ever shared in a single presentation. Angelo Palmieri, COO of GCAL, added: "There is little doubt that lab grown diamonds as a category has reached main stream status. Sales continue to climb. We see it in our lab every day. However, we hear all the time that the amount of necessary information about lab grown diamonds available to the industry today, is far too limited."

"There are enough challenges in 2020," said Angelo. "When there's finally a product the industry can depend on, gemologists, manufacturers, wholesalers, retailers and appraisers should have all the information needed to be successful. Sharrie's informative webinar not only answers questions being asked, she answers questions many didn't even know to ask."
Sharrie Woodring, GG, FGA, has been a gemologist since 1998, and a life-long rock lover. Sharrie feels fortunate to have begun her gemology career just as HPHT Treatment and Synthetic Diamonds began impacting our industry. As a result, and as Senior Gemologist for Gem Certification & Assurance Lab (GCAL), she has studied, graded and gathered data on hundreds of thousands of lab grown diamonds. In addition, during the last 15 years, Sharrie has traveled the globe on gemological assignments, including in 2016 to Botswana on an appraisal assignment for Sotheby's and Lucara to analyze the 1,109 carat Lesedi La Rona diamond.

This webinar is hosted by Dusan Simic and Branko Deljanin, authors of the new book "LABORATORY-GROWN DIAMONDS – Information Guide to HPHT and CVD Grown Diamonds". The webinar is part of a 7 part series in collaboration with the book's contributing authors, including Sharrie.
To order the book, please click on the following link: https://www.brankogems.com/shop/books/laboratory-grown-diamonds-information-guide-to-hpht-and-cvd-grown-diamonds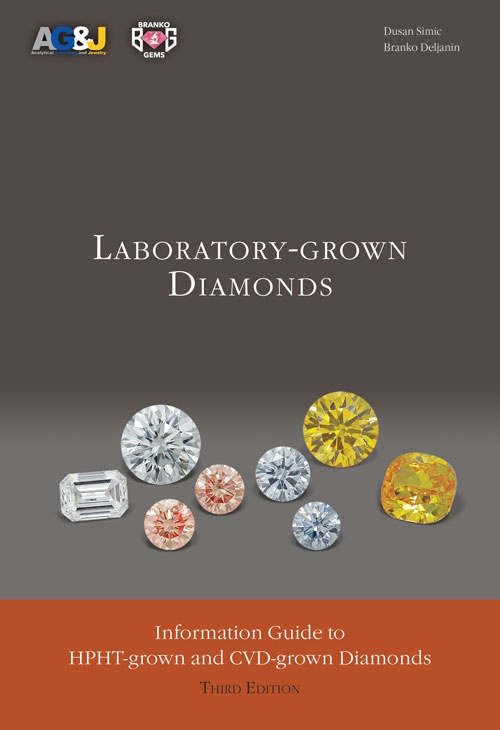 Excerpts from the Webinar
WEIGHT DISTRIBUTION
"1 carat is the most popular"
"1/4 carat to 1/2 carat size – HPHT is more common. 
"1 1/2 to 2 ct and larger, we see more CVD diamonds."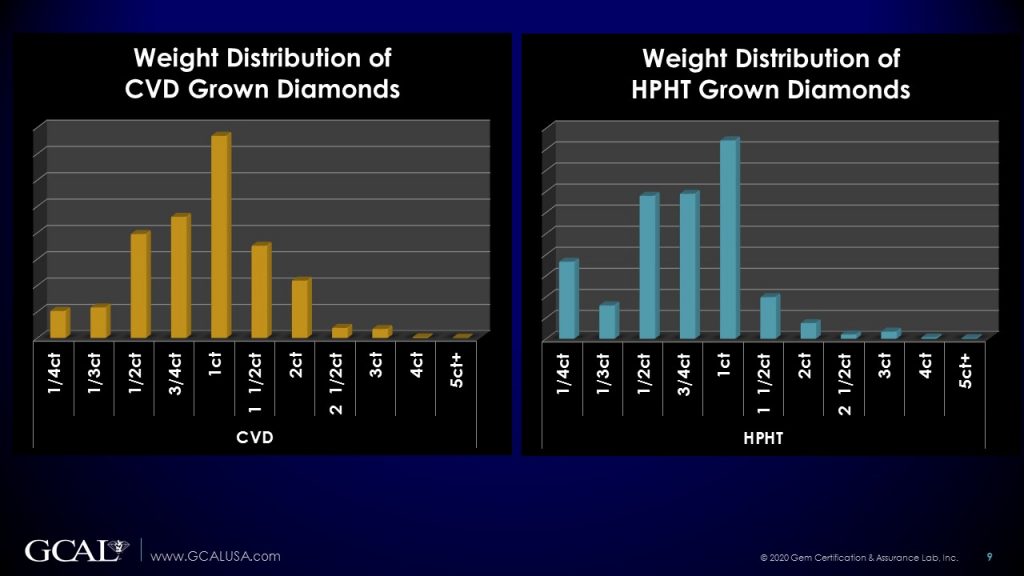 SHAPES
"No surprise Rounds are number one. But when we excluded Rounds, it's interesting to see how popular Ovals are. Cushions and Radiants aren't as popular as I would have thought.
"How much does growth method impact the popularity of shapes? "Surprisingly there's really no difference."
"Looking at submissions for 2020 only, Fancy Shapes have become much more popular."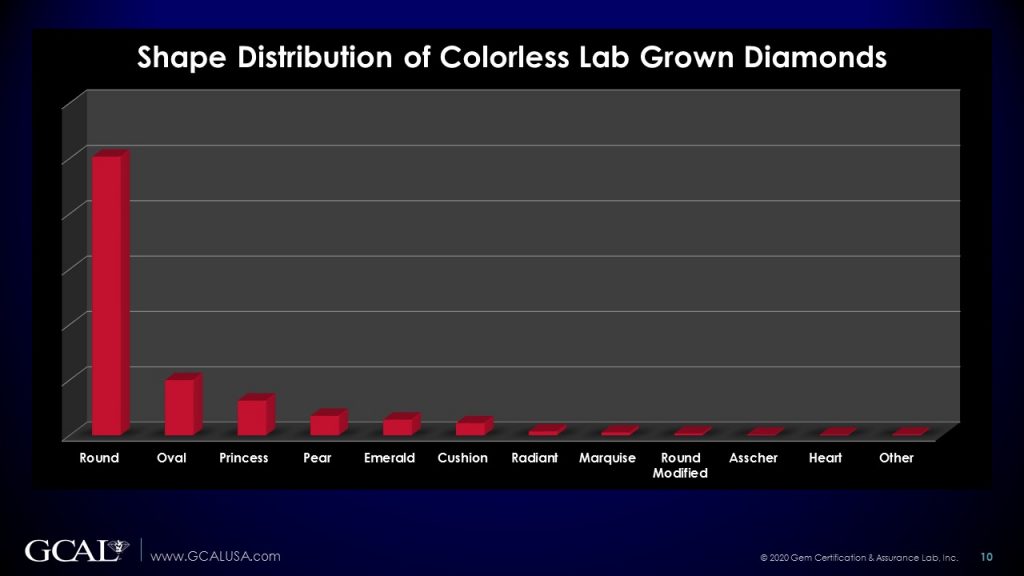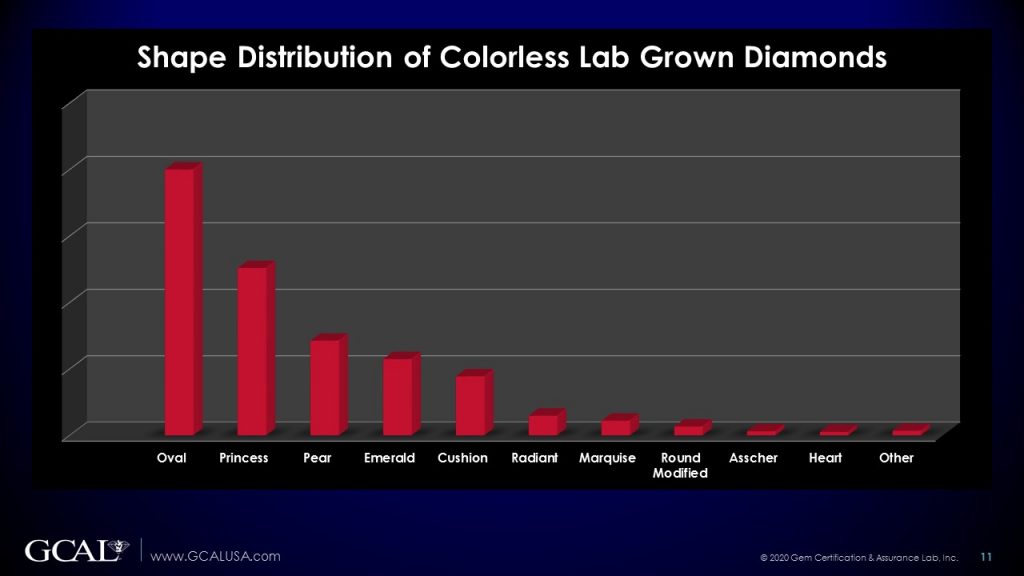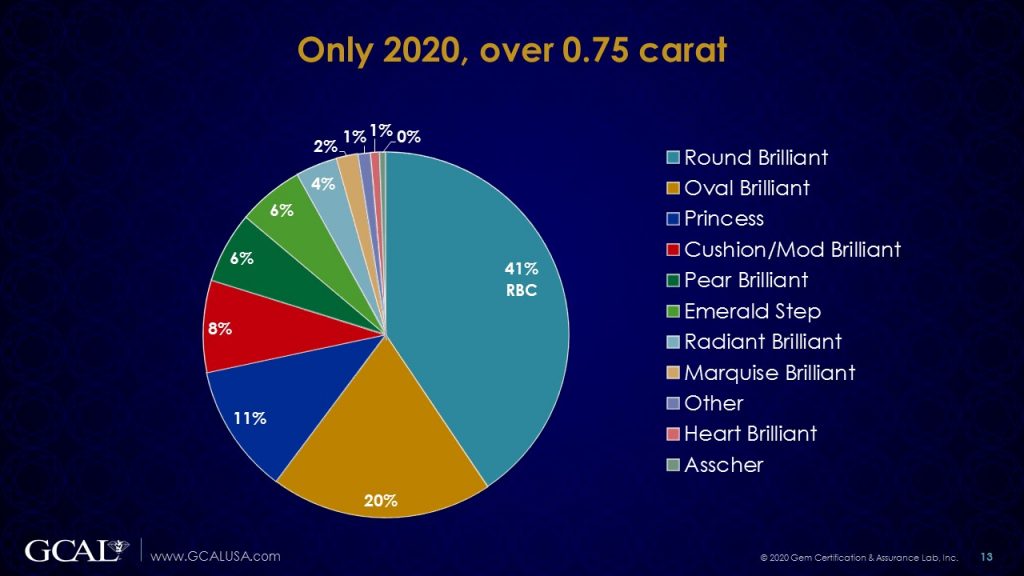 CLARITY CHARACTERISTICS OF LG DIAMONDS  
"Lab Grown diamonds can occur in any clarity. The sweet spot is VS1 – SI1."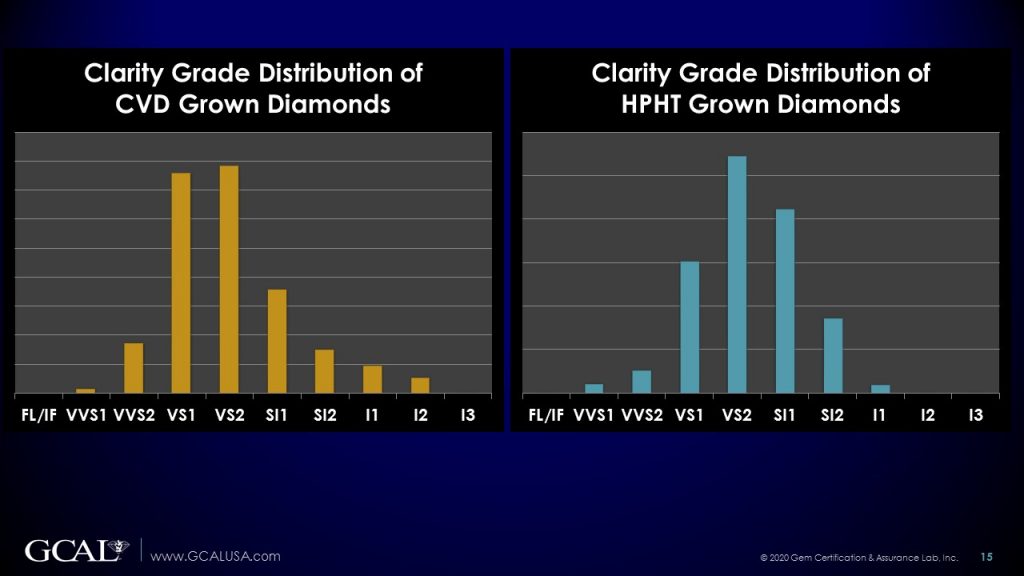 EVIDENCE OF GROWTH ENVIRONMENT
"The environment in which the lab grown diamond grows is directly reflected in the inclusions we observe."
"Inclusions include clouds, crystals, needles, cavities and pinpoints."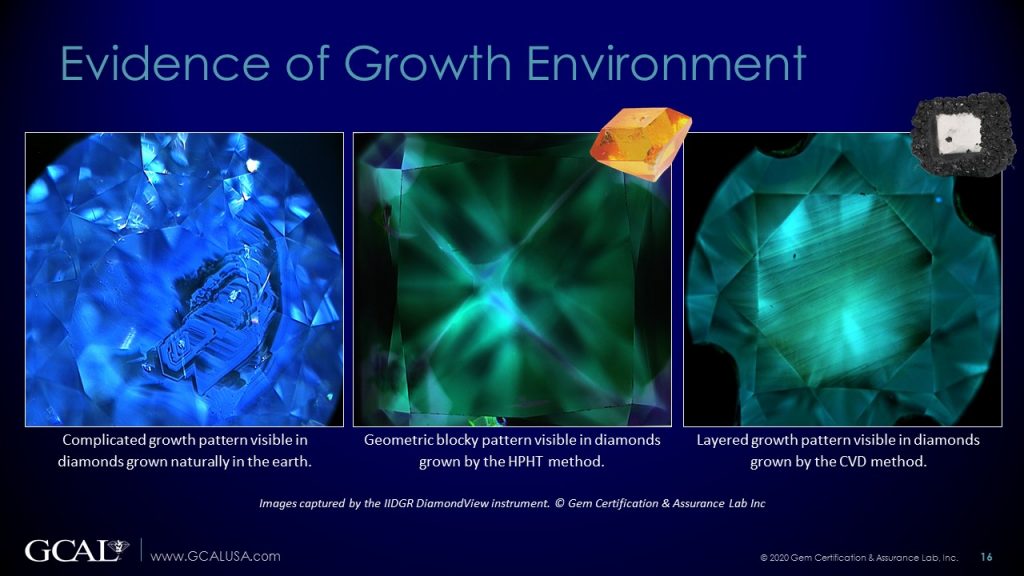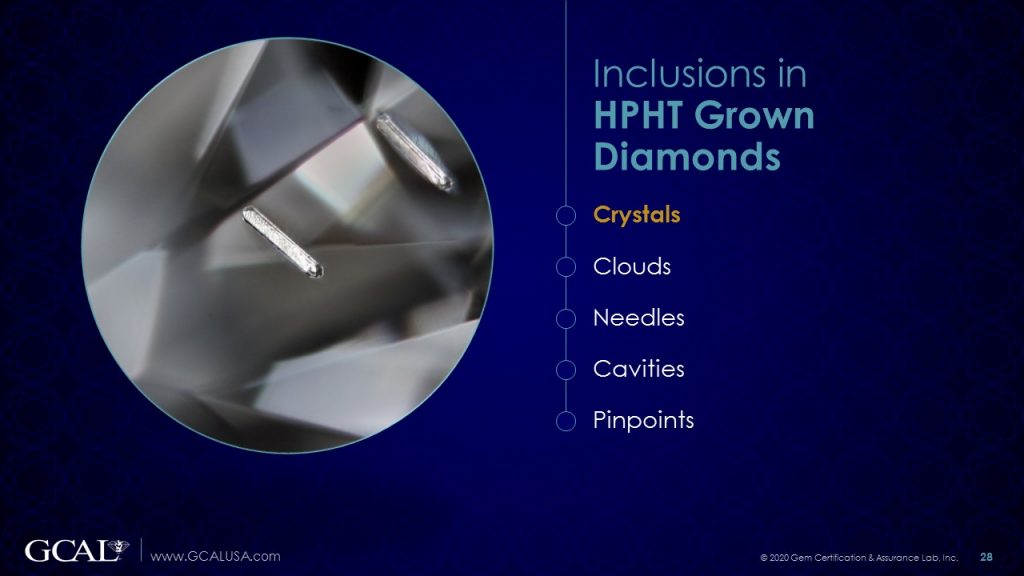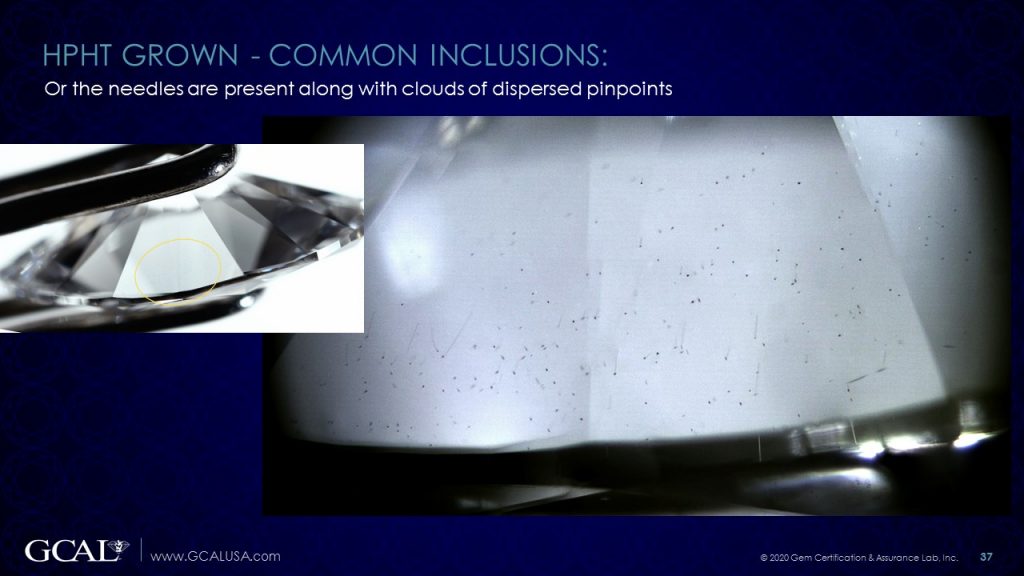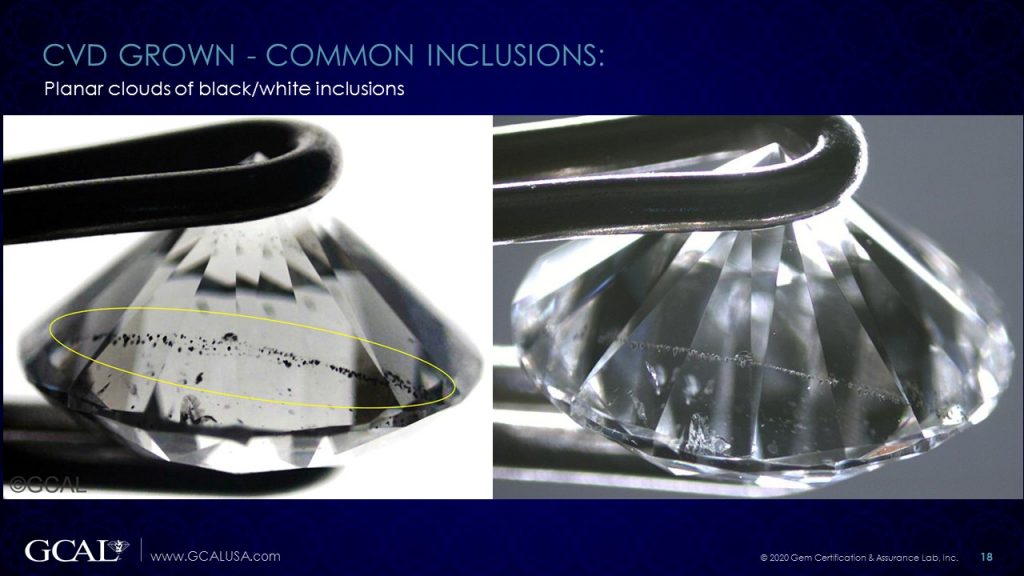 COLOR CHARACTERISTICS
"The color distribution of CVD and HPHT is quite interesting because it is distinctly different."
"The range of color we see in CVD is E to K. HPHT is a much higher range in D to H primarily."
"As prices of lab grown have come down, we see a great increase in the color. Is it technology or demand driving the higher colors?"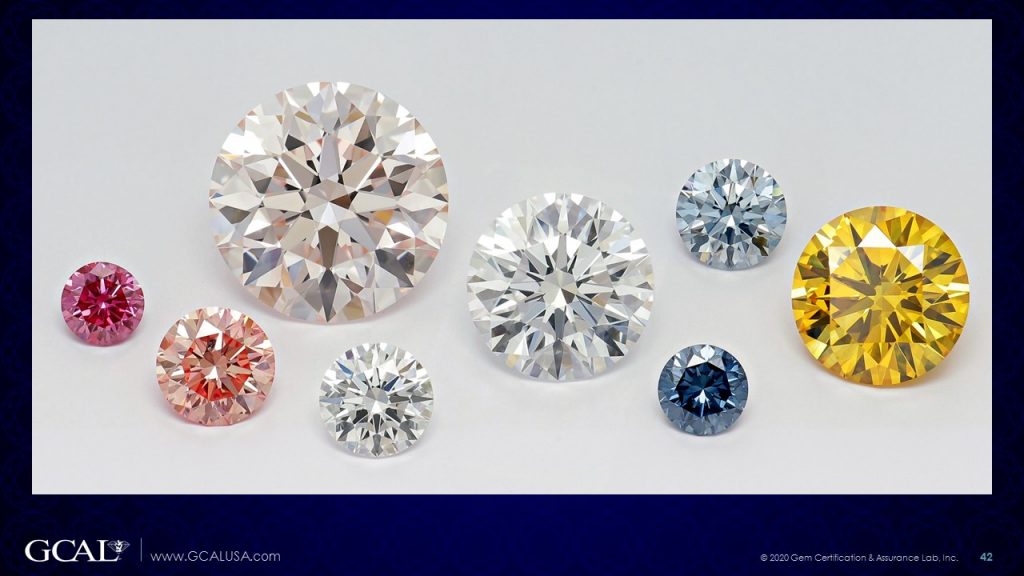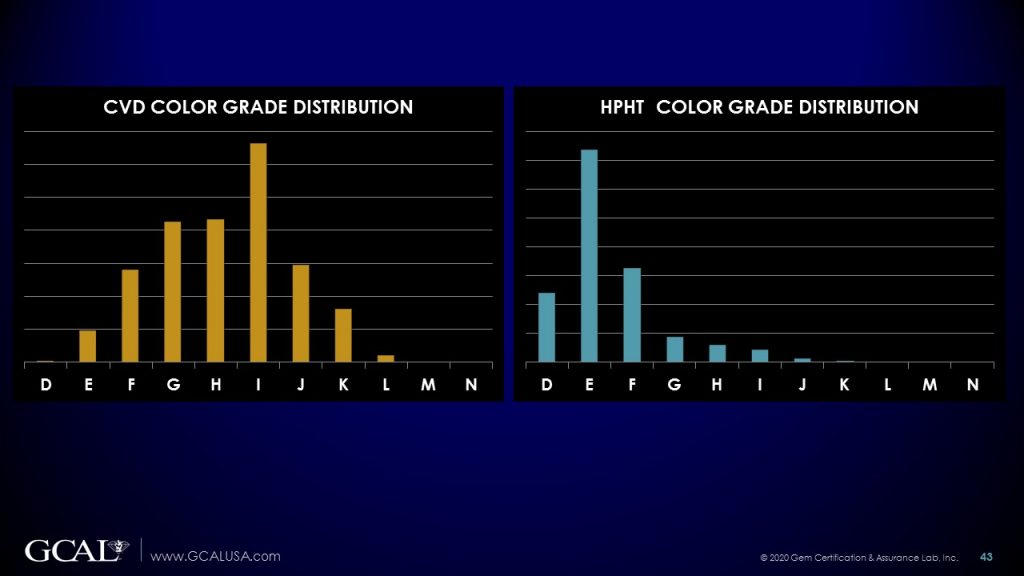 FLUORESCENCE"
The vast majority of lab grown diamonds do not fluoresce under long wave light."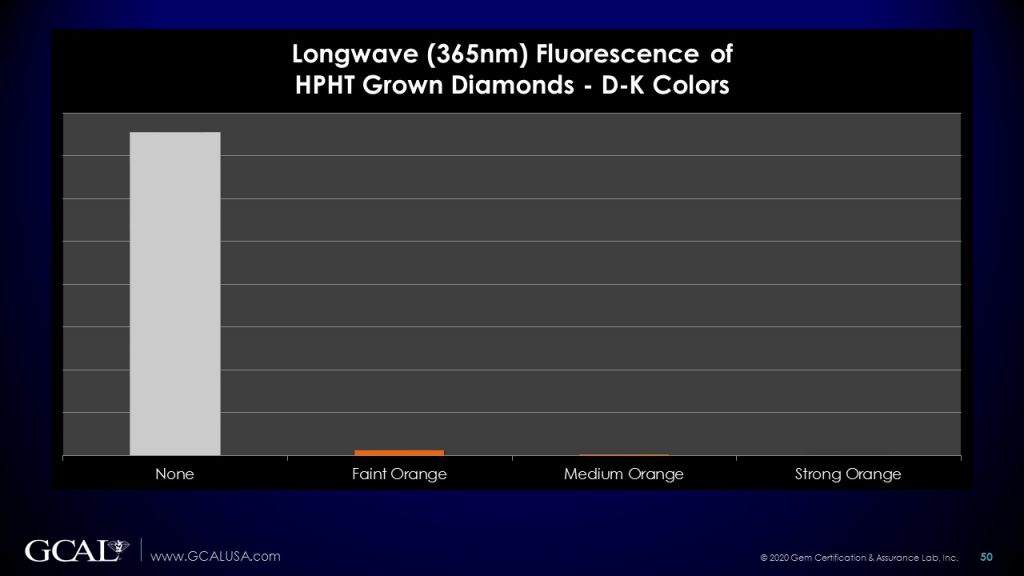 DIAMOND SCREENING
"We do quite a lot of diamond screening here at GCAL. Sometimes lab growns are mixed with natural. And sometimes natural is mixed in with lab grown."
"Never rely on one test."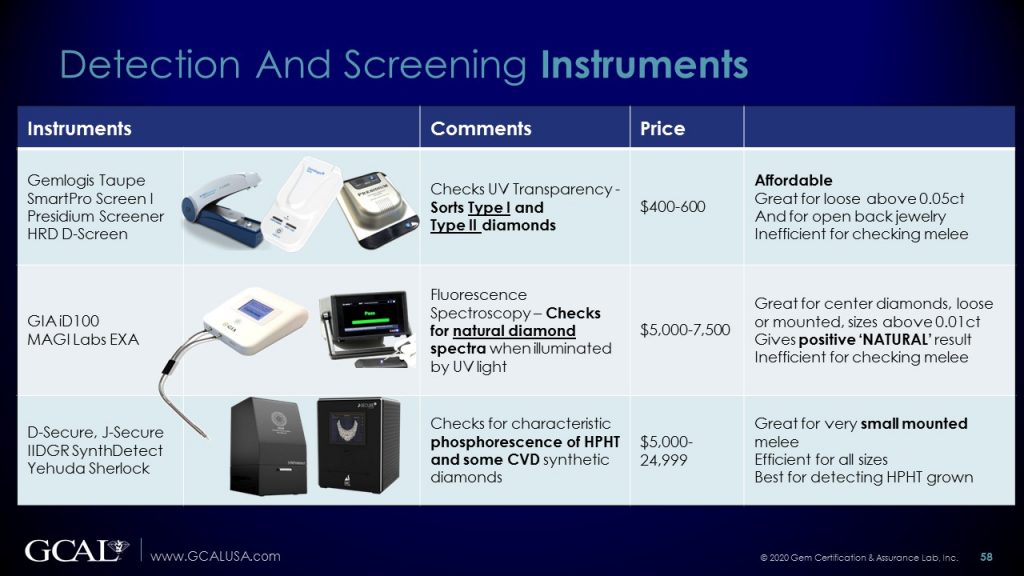 INSURANCE APPRAISAL HIGHLIGHTS
"All insurance carriers underwrite lab grown diamond jewelry."
"More than 45% of independent retailers are selling lab grown diamonds. Most large retail chains, and most online sellers are selling lab grown diamonds."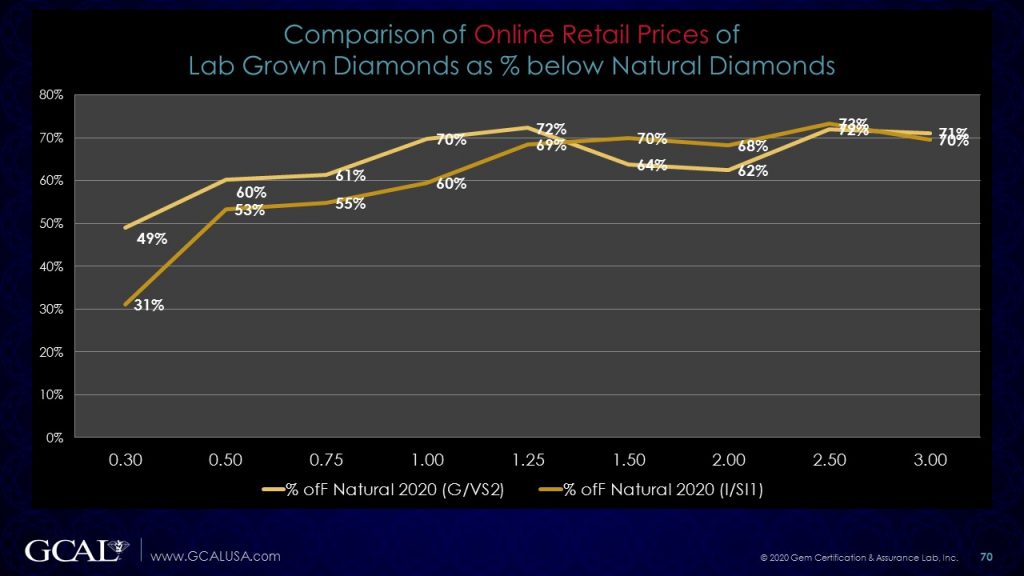 PRICE COMPARISONS
"Lightbox did not set the market at $800 per carat. But they did give a green light to all DTC Sightholders to carry lab grown."