GCAL <> WD Lab Grown Diamonds Webinar
Behind-the-Scenes Tour of the Diamond Growth and Certification Process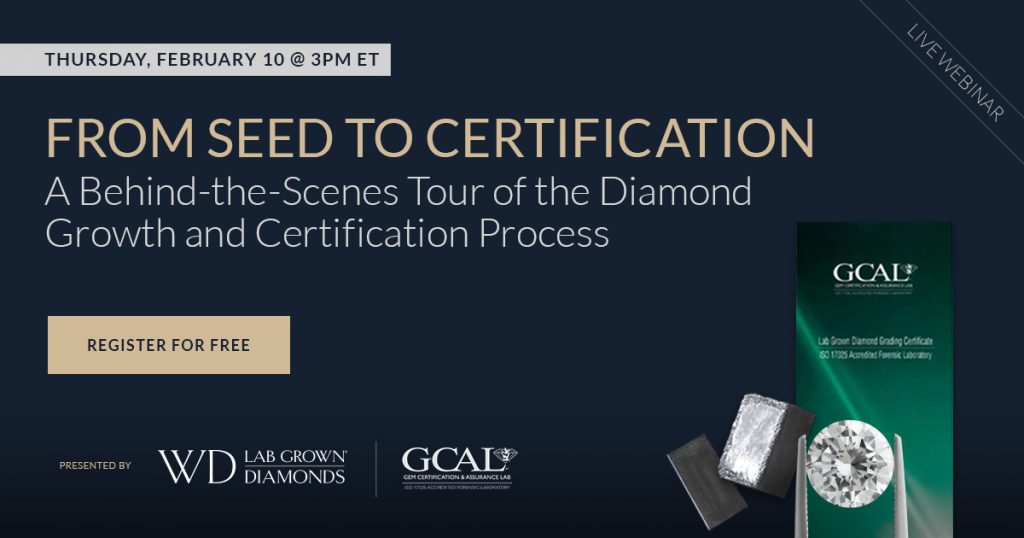 WEBINAR: Thursday, February 10, 2022 | 3pm ET
NEW YORK, NY, January 31, 2022 / As consumer demand for lab grown diamonds continues its exponential rise, it is more important than ever that the retailer, designer, and distributor can accurately and powerfully share the unique story behind this emerging new category. In this first-of-a-kind joint webinar, WD Lab Grown Diamonds ("WD") and Gem Certification & Assurance Lab ("GCAL") will provide an inside look into the journey of a lab grown diamond, from initial seed to certification, followed by an open Q+A session.
World renowned crystal growth scientist, WD's Chief Process Officer Jonathan Levine-Miles, PhD, will share step-by-step how WD's diamonds are grown sustainably in a controlled, safe production environment. From diamond seed selection, to growth atom-by-atom within the chamber, to final finishing by their expert team of scientists and artisans, this information-packed tour will shed light on the specialized process of high-quality diamond growth. Once each one-of-a-kind diamond is polished and ready for certification, it proceeds to the next step in its fully traceable, guaranteed chain of custody.
From there, testing, grading, and certifying lab grown diamonds is a complex and lengthy procedure. GCAL's Chief Operating Officer Angelo Palmieri will walk through the process, providing the facts needed to clearly demonstrate a diamond's quality and value to the customer. Directly assessing a diamond's make and light performance, developing its digital certificate, registering its unique Gemprint® fingerprint, and creating 360° and Fire videos are just some of the steps involved. The GCAL team will conclude with an overview of how they work with third-party sustainability certification organization SCS Global Services, Inc. to verify WD's Sustainability Rated, 100% Climate Neutral diamonds. Join WD and GCAL on Thursday, February 10th, from 3:00 to 4:00 EST, for this exclusive, insider view into the lab grown diamond growth and certification process.
About WD: Founded in 2008 and based in the Washington D.C. area, WD Lab Grown Diamonds is a pioneering technology company and global leader in high-quality laboratory created diamonds, with distribution under the brands WD Lab Grown Diamonds and Latitude. Specializing in 'As Grown' and untreated diamonds of the highest quality, WD was the first diamond company worldwide to be third-party Sustainability Rated, and to achieve 100% Climate Neutrality, an honor granted by global standards organization SCS Global Services.
About GCAL: GCAL protects consumers, retailers, and manufacturers with a unique suite of certification, identification and forensic services for lab grown and natural diamonds, gemstones, and jewelry. GCAL's mission is to provide the most accurate and consistent gemological services with uncompromising integrity and unparalleled customer care. GCAL remains the only gem lab in the world to stand behind their grading with a zero tolerance, money-backed consumer guarantee. Guaranteed certificates also include Gemprint® fingerprint image, Cut Grades on all diamond shapes, Light Performance and Photomicrography. GCAL is the only gem lab in the world to have earned the prestigious ISO 17025 Forensic Accreditation, and the first diamond lab in the world to achieve SCS Global Services Accreditation.
Brittany Lewis
Chief Marketing Officer
WD Lab Grown Diamonds
wdlabgrowndiamonds.com
Steve Feldman
Director of Sales & Marketing
Gem Certification & Assurance Lab
gcalusa.com