Tracr and Sarine to Collaborate on Diamond Traceability Solution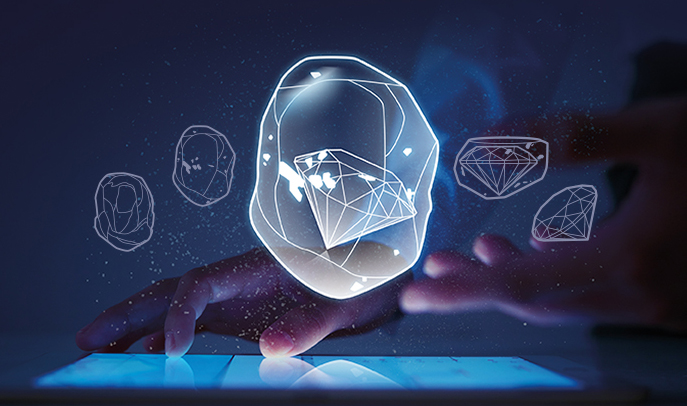 Industry leaders in diamond provenance and traceability to bring together their technologies and expertise to develop a seamless, effective and scalable solution
Hod Hasharon (Israel), 09 October 2023 – Singapore Exchange Mainboard and Tel-Aviv Exchange listed Sarine Technologies Ltd. ("Sarine" and along with its subsidiaries "the Group") (U77:SI; SARN.TA), a worldwide leader in the development, manufacturing, marketing and sale of precision technology products for the evaluation, planning, processing, measurement, grading and trading of diamonds and gems, is pleased to announce a collaboration with Tracr Limited ("Tracr") on diamond traceability.
Tracr and Sarine are pleased to announce their intention to collaborate on a scalable, costeffective solution for use in tracking diamonds from their source to the point of entry into G7 countries. The solution combines the complementary benefits of both the Tracr™ platform and Sarine's Diamond Journey™ traceability solution. The Tracr-Sarine solution is designed to facilitate the source verification and traceability of diamonds upon entry to the G7 and other countries, utilizing a dedicated digital portal.
Tracr, as the world's first fully distributed diamond blockchain platform which enables registration of rough diamonds at source, and Sarine, as a worldwide leader in precision technologies spanning the entire diamond pipeline, will each apply their market-leading skills and capabilities to deliver a seamless digital ecosystem to enable tracking of diamonds throughout the value chain. The collaboration will utilize Sarine's ability to perform objective verification of a diamond's journey from rough to polished using verifiable data, which is uploaded onto the Tracr platform. The digital platform will then host a dedicated customs portal to be used by government officials from the G7 and other countries.
Through the use of Sarine's and Tracr's existing, extensive networks – with over 100 million diamonds utilizing Sarine's systems annually and more than 1.5 million rough diamonds currently registered on Tracr at source – the solution is expected to have minimal impact on the supply chain. Both Tracr and Sarine have a broad presence in the diamond industry, making this a solution that can be scaled quickly and effectively.
Wes Tucker, Tracr CEO, said: "Diamond provenance assurance is a rapidly growing priority that will affect all parts of the industry, especially with G7 nations set to implement new import restrictions. The collaboration between Tracr and Sarine will bring together the best of both of our propositions to deliver a highly effective, scalable and cost-effective digital diamond traceability solution which can play a key role within the inclusive framework of the G7 Diamond Protocol facilitated by the World Diamond Council."
David Block, Sarine Technologies CEO, said: "The collaboration between Tracr and Sarine will enable the diamond value chain to quickly accelerate the volume of diamonds undergoing data based verifiable traceability, which is the need of the hour. The synergy created by a solution that uses Sarine and Tracr's complementary capabilities was the natural next step for traceability and transparency in the diamond industry. We are excited to start this initiative with Tracr, which will bring together industry leading technologies and establish a new proposition for diamond traceability.
Both parties will continue to engage with relevant industry bodies and stakeholders regarding the new collaborative proposal and the G7's approach to implementing import restrictions in support of the G7 Diamond Protocol.
About Tracr: Tracr™ is the world's first fully distributed diamond traceability platform that starts at the source and operates at scale, bringing the ability to explore the provenance, authenticity and unique journey a natural diamond has taken along the diamond value chain. To date, Tracr has registered more than 1.5 million rough diamonds at source and 190,000 polished diamonds at the manufacturer level securely on their dedicated Tracr instances. Visit https://www.tracr.com
About Sarine Technologies: Established in 1988, Sarine Technologies Ltd. is a worldwide leader in the development and manufacturing of advanced modeling, analysis, evaluation, planning, processing, finishing, grading and trading systems for diamonds. Sarine products include the Galaxy® family of inclusion and tension mapping systems, rough diamond planning and optimisation technologies, laser cutting and shaping tools, laser-marking, inscription and fingerprinting equipment, automated (AI-derived) Clarity, Color, Cut and light performance grading systems and traceability, visualisation and retailing services. Sarine systems have become standard tools in every modern manufacturing plant, properly equipped gemology lab and diamond appraisal business, and are essential aids for diamond polishers, dealers and retailers. For more information about Sarine and its products and services, visit http://www.sarine.com.